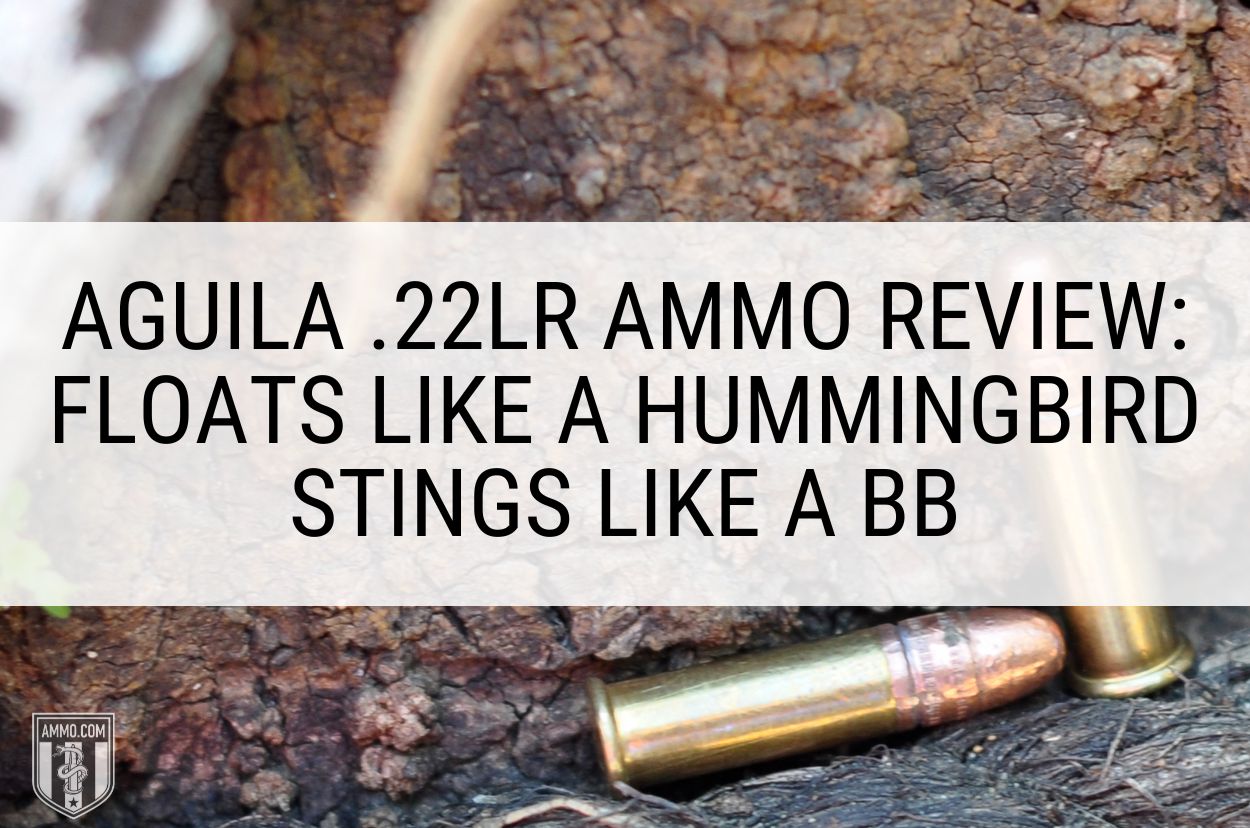 Most shooters I know don't put a lot of thought and consideration into their .22 LR ammo. Rimfire cartridges are pretty simple and basic in design; they don't come with a lot of bells and whistles, and they're only designed to perform a niche set of tasks.
However, when you break open a new brick of 22LR ammo, you don't want to be worried about clearing duds while you're enjoying your day of plinking at the range.
Aguila is an ammo manufacturing company that sells all sorts of rimfire and centerfire cartridges…From .22LR (.22 Long Rifle) to 308 Winchester and nearly everything in between. It's a popular brand that's worth consideration.
The .22 LR, in general, is great for plinking, target practice, varmint control, and training. You want ammo that will fire and feed well; it won't yaw to the point that you can't hit the broad side of a barn and performs consistently.
Fortunately, the Aguila 22LR rimfire cartridges met our criteria for good ammo, and you can order them HERE. However, you can still learn a few things before heading to checkout.
Aguila 22LR Ammo Overview
Aguila is actually a Mexican ammo manufacturer with facilities in the USA and Mexico. The company has been supplying civilians with ammunition for over sixty years, and it's gained quite a reputation.
With such a long history, Aguila ammo is known for producing rimfire ammunition that rarely fails to fire. Overall, Aguila ammunition is pretty good ammo. It comes in a few variations (I'll discuss that more in detail below), so you can use it for plinking, target shooting, and even some varmint control.
Aside from .22LR ammunition, Aguila offers multiple centerfire rifle and handgun rounds such as 6.5 Creedmoor, 223 Rem, 9mm Luger, 32 ACP, 38 Super, and shotshells, just to name a few. No matter if you love your bolt-action rifle, Glock, or Ruger 10-22, Aguila has rounds that can fit your budget and shooting needs.
Naturally Aguila 22LR ammo is inexpensive, but that's true for most rimfire rounds. However, the price points do vary depending on which Aguila ammo you're buying.
The company doesn't just make LRN bullets (Lead Round Nose); you can also get CPHPs (Copper-Plated Hollow Points) and CPRNs (Copper-Plated Round Nose). For those unfamiliar, this essentially means you'll pay a bit more for rounds with better terminal performance.
Aguila produces subsonic .22 long rifle cartridges like the popular Sniper Subsonic and ammo for casual shooters like the .22 LR Super Extra. I wouldn't classify Aguila ammo as target-grade ammunition, but it performs fairly well in my Ruger 10/22, and it's perfect for plinking and hitting the target within 50 to 100 yards.
The average muzzle velocity for a .22LR is only 1,120-1,135 FPS, but excluding the Super Extra, the vast majority of Aguila's .22LR ammunition exceeds that. A lot of shooters compare Aguila Super Extra to CCI Mini-Mag, because they're similar in price, muzzle velocity, design, and functionality. But accuracy varies depending on your rifle. However, I wouldn't mind stocking my cabinet with either (or both).
Furthermore, Aguila uses brass cases and quality primers. Naturally, you don't need to worry about Aguila ammunition making corrosive primers these days, either. Overall, this is quality ammo at a fair price with an excellent company history, and you're likely to find it in stock.
Our Aguila 22LR Review
As mentioned previously, Aguila 22LR ammo comes in a few variations. Some are fast, some are slow, some are designed for target practice, and others have adequate terminal performance for varmint control.
Because Aguila is high-quality ammo, you're going to get a lot of use out of these rounds. Aguila ammo for the .22 Long Rifle is mostly high velocity (compared to the 1,000 fps of .22LRs standard velocity). The company also produces subsonic cartridges if you like using a suppressor. Also, I should note that the .22 LR's velocity will vary depending on the barrel length. The longer the barrel, the higher the velocity.
If you're shooting with kids, the Aguila .22LR Colibri is an excellent choice (the word Colibri translates to "Hummingbird"). The 22 Colibri has lower muzzle velocity as it's a 22LR that only uses the primer to push the bullet out the barrel (no gunpowder is in the case). It fires a tiny 20-grain lead bullet with a muzzle velocity of only 420 FPS, putting it well below supersonic velocities.
If you're looking for something a little more beastly for plinking and target practice, the 40-grain Copper-plated round nose is an excellent choice. Of course, it has a much higher muzzle velocity than the Colibri at 1,255 fps. Although the Colibri is best used in single-shot rifles or revolvers, the Super Extra is appropriate to use in semi-auto handguns and rifles.
While I don't normally recommend a .22LR for self-defense, the Aguila 38-grain Super Extra is a viable choice if you have nothing else at your disposal. For example, if you're worried about recoil, the .22LR can be an effective option.
Aguila ammo has a lot of great options for anyone who enjoys a variety of shooting activities. And it performs about as well as most American brands like Winchester and Remington, in my experience.
What is it best for?
Because Aguila ammunition has a few variations, the best uses vary. The Aguila 40-grain LRN, for example, has an exposed lead tip. It's great for target practice and plinking, but some ranges require copper plated bullets to reduce lead exposure.
The Aguila CPHP is an excellent choice for target shooting and plinking, but it will also deform on impact, giving us more terminal performance. The CPRNs are cheap, accurate, and will work great on small game like squirrels and rabbits.
Disadvantages
There aren't many disadvantages to Aguila ammo. It performs well, rarely has duds, and the company has excellent quality standards. Some shooters have reported getting dirty Aguila ammunition, but based on experience, this isn't common.
Pros & Cons
We've talked a lot about all the aspects of Aguila ammo, but we can make things a bit easier by listing the pros and cons so you can better decide whether to buy it.
Pros
It's affordable.
Accurate.
There are plenty of options to choose from.
Most variations of Aguila .22LR ammo are easy to find in stock.
Cons
Variations like the Sniper Subsonic can be challenging to find.
Variations
Now that we know Aguila ammo is decent ammo that won't let you down let's take a deep dive into some of the more popular variations.
I've talked a lot about the Aguila Super Extra. It's one of the ammo manufacturer's more popular rounds. This 38-grain CPHP projectile shoots fast and hits hard (for a rimfire round). It's reliable, and you can pretty well be sure it's in stock.
With a muzzle velocity of 1,280 fps and 137 ft-lbs of muzzle energy, it's on the higher end of the .22 LR performance spectrum. Because the rimfire round has copper plating, it's a round you can use at most ranges when you want to spend a day shooting at a target.
It's also versatile enough to use for hunting small game and will even work in some self-defense situations as a last resort. If you're looking for a good .22 Long Rifle round to stockpile, this is the one.
Aguila makes excellent cartridges for those who want a cheap option that allows you to shoot at nearly any range; the Aguila 40-grain CPRN is a great choice. However, I wouldn't necessarily jump on this one for its versatility. It isn't exactly designed for terminal performance and, therefore, isn't the best hunting or self-defense option.
This bullet has a 1,255 fps muzzle velocity with 140 ft-lbs of muzzle energy. While it shoots fast and pretty accurately, we can't really call it match-grade ammunition. You'll hit the target, but there are much better options available for competition shooters (like the Eley Match).
Finally, the Aguila SuperExtra 22LR 40-grain Lead Round Nose ammunition is another low-cost option with a high muzzle velocity and great accuracy. However, I wouldn't necessarily stockpile this one. Due to the bullet's design, the exposed lead limits where I can shoot it.
This cartridge also lacks versatility. It's basically just a plinking and target practice round. On the other hand, it is an excellent round for new shooters. The muzzle velocity is a bit slower than the options above (1,130 fps), but it performs quite well, and you'll still get tight groupings within about 50 yards.
Conclusion
Choosing .22 Long Rifle ammo isn't as easy as you might think. Some rimfire ammo is notorious for FTFs and duds. Aguila ammo might be predominantly made in Mexico, but it's as good as any American rimfire cartridges you'll find.
Contrary to what some shooters say, I've never had a problem with Aguila .22LR ammo. It's pretty clean, high-quality, versatile, and available.
FAQs
Is the Aguila .22LR ammo worth buying?
Sure! It isn't the worst ammo you can buy, and it does perform well. But before buying in bulk, it's a good idea to make sure your firearms like it.
What is the range of the .22LR Aguila?
The range may be different with each variant, but these rounds perform well within 50-100 yards.
Is Aguila .22LR ammo accurate?
Rimfire ammo, in general, isn't going to be as accurate as centerfire cartridges. However, Aguila is pretty accurate in comparison to other .22LR cartridges. Of course, a new red dot sight also helps with accuracy.
Is the Aguila .22LR SuperExtra high velocity?
Yes. The standard velocity of a .22LR is around 1,000 fps. The Super Extra muzzle velocity is 1,280 fps.
Does Aguila make a .223 Rem cartridge?
Yes! Aguila produces multiple centerfire cartridges including the 223 Rem. Perfect for your next trip to the range with your favorite AR-15 carbine.
Aguila 22 LR Ammo Review: Floats Like a Hummingbird Stings Like a BB originally appeared on Ammo.com