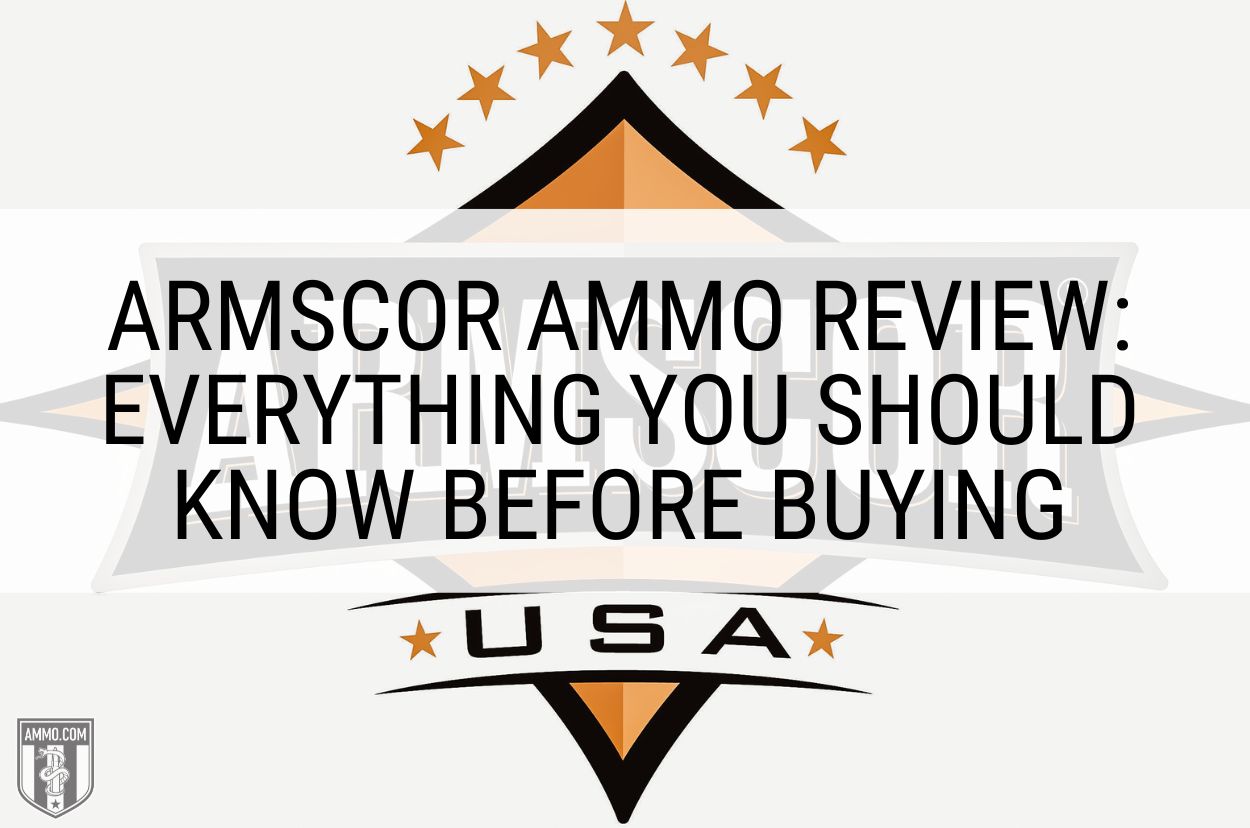 Considering investing in Armscor ammo but aren't sure that it's worth your money? I was in your shoes just a few short months ago, and in this Armscor ammo review, I'll dive into the details that determine why I would buy Armscor ammo for my 10/22 Ruger and my Anderson Arms AR-15.
Grab your favorite beverage, and let's get into everything you need to know about Armscor Precision ammo.
Is Armscor a Good Brand?
Yes, Armscor is a good brand for cheap ammo. However, I don't believe it's for everyone or every gun, even though they've sponsored world champion shooter JJ Racaza.
Armscor has maintained a solid reputation for decades, and they continue to make strides in the right direction with ammunition plants across the globe, including in the USA. The company exports to over 50 countries on 6 continents.
After reading the motto, "Right on target. Right on the Price.", I had to find out for myself if this was clever marketing or legit. So I got a 20-round box of Armscor 223 Rem 55-grain FMJ-BT for my AR and a 50-round box of Armscor 22 LR 40-grain LS to test out.
Pros and Cons of Armscor Ammunition
Below you'll find the pros and cons I found while testing Armscor Precision ammo and what other customers have had to say about it, so you don't have to just take my word for it.
Pros
Solid pricing
Dependability
Availability
Accessibility with a wide selection of calibers
Cons
Not all guns will cycle it cleanly
Shoots a little dirty
Overall, I was impressed with the Armscor ammo I tested. It was decently reliable; I only had a couple of jams with the 22LR rounds and none with the 223 Remington rounds.
My Ruger 10/22 doesn't like soft lead nose rounds; they don't cycle or shoot that well because the soft lead catches when feeding into the chamber and then causes misfires or deforms the bullet.
I also noticed that my rifle had to be cleaned after the 50-round box. Which wasn't a huge deal since I usually clean it after each trip to the range, anyways.
As for the 223 rounds, they were very dependable and made for a fun day of target practice. I definitely believe they're worth buying in bulk for plinking. Once I have a little room in my safe, I'll be ordering some more.
What Ammo.com Customers Have to Say About Armscor Ammo
I've also taken the time to snag a few other Armscor ammo reviews from real ammo.com customers-
Frank had this to say about the 30 Carbine 110-grain FMJ, "I have owned my M-1 Carbine since the early '90s, fired it many, many times & I have NEVER had any feeding issues, reloading issues, or jams. I bought this ARMSCOR 30 Carbine. The quality seemed good, and the price was great, but, shooting a Ten round magazine, I would have upwards of Three to Four jams almost every time. The final solution was to lube the heck out of the bore & a little on the tips of the rounds themselves; then, the number of jams decreased to One or Two jams per TWO Ten round clips. All in all, I am very pleased with the quality & the price. I recommend this product for its value alone."
About the 22LR 36-grain HP, Red-one said, "I have shot 4000 rounds thru Ruger 10/22, Ruger MK IV, Smith & Wesson auto pistol, M&P, 3 different 1911 22 pistols all automatic only had 3 fail to fire and 2 fail to feed total. I had no issues with running complete mags fast or slow fire drills. But, like all 22 ammo, was a little dirty after the first 500 rds, but did not seem to affect the performance. For the price, very dependable."
Lastly, SailorManNH said about the 38 Special 158-grain FMJ, "I've shot approx 2,000 rounds, no failures. Good cheap rang ammo a little dirty, not excessive."
Which Calibers Are Available from Armscor?
Armscor Precision makes it all, from rimfire ammo to handgun ammo, magnum ammo, rifle ammo, and shotgun ammo.
Here's a short list of calibers from Armscor, many of which are available at ammo.com-
.22 Short
22 MRF
9mm Luger
.40 S&W
.45 ACP
5.56mm NATO
20 Gauge
12 Gauge
Armscor Ammunition History and Important Information
Armscor Global Defense, Inc. began very differently than a global exporter of great ammo and firearms. It was originally a Manila printshop called Squires Bingham & Co. in 1905. This print shop made a little money on the side importing and selling motorcycles and sporting goods, including arms and ammunition.
In 1941, the Tuason family purchased the company. 11 years later, in 1952, they started manufacturing firearms rather than just importing them.
Don Celso Tuason bought Sportsmen's Headquarters at the start of World War II and later renamed it Squires Bingham Manufacturing, Inc. The company helped rebuild the post-war Philippines by getting the first firearms manufacturing license from the government. Armscor soon opened plants across the country. And by the 60s, Tuason passed the business to his sons – who built it into the brand we know today.
After Armscor USA opened plants in Nevada and Montana and acquired Rock Island Armory, the brand's third-generation leader Martin Tuason became CEO and president of the company in 2012. He continues to build Armscor's presence and provide stellar firearms products to the United States and beyond.
Today the company is owned by Squires Bingham Co. Inc, a holding company for Don Celso Tuasons' family. His oldest son, Demetrio "Bolo" Tuason, is the Chairman Emeritus. His younger brother Daniel is in charge of the plants and production.
Rock Island Armory is the primary manufacturer and distributor of Armscor Ammo. They distribute over 11 firearm lines known around the world as some of the best on the market in the United States since 1985.
Where Is Armscor Ammo Made?
Armscor ammo is made in Marikina City, Philippines.
The factory produces over 200,000 arms and 420 million rounds every year. 80% is exported to over 60 countries worldwide.
Frequently Asked Questions
Here are a few commonly asked questions we receive at ammo.com about Armscor ammunition.
Is Armscor Ammo Dirty?
No, Armscor ammo is not dirty. At least not any dirtier than any other ammo on the market.
Is It Good For Self-Defense?
Yes, it is good for self-defense, depending on the type of bullet you purchase. An FMJ is not a good bullet choice for personal defense, while a hollow point bullet is good for self-defense.
How reliable is Armscor ammo?
Armscor ammo is very reliable. I had very few problems when shooting it during my tests.
Parting Shots
Now that you've finished reading the Armscor ammo review, it's clear why many retailers, including ammo.com, sell this ammunition.
I believe it's comparable to Winchester ammo in many ways, and that says a lot because Winchester is some of my favorite. However, I'll stick with Hornady ammo for my carry ammo since my Smith & Wesson Shield loves it so much.
Armscor Ammo Review: Everything You Should Know Before Buying originally appeared on Ammo.com