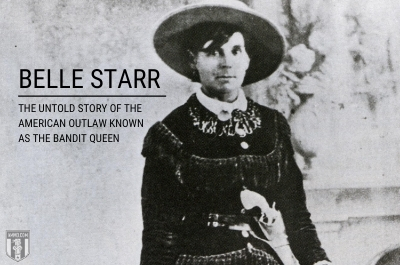 Basically everyone has heard of Jesse James. Slightly more obscure is Belle Starr, an outlaw from the same Wild West era, albeit one without the name recognition of James and his gang, with whom she had some ties. In her time she was known as the Bandit Queen and the Petticoat Terror of the Plains. Perhaps most interestingly of all, she was murdered and her murder remains officially unsolved to this day.
Her birth name was Myra Maybelle Shirley (her family mostly knew her as "May") and she hailed from Carthage, Missouri. Although a prosperous farmer in the region, her father was considered the black sheep of his prominent, old-stock Virginia family. In fact, her father had been divorced twice when she came along, scandalous at the time. Starr was the daughter of his third wife, who had family ties to the Hatfields of the famous Hatfield-McCoy feud.
Belle Starr's Early Life and First Marriage
The family moved to Texas in 1864, after the town of Carthage was attacked by a Union offensive during the War Between the States. Her brother, a Confederate sympathizer, was killed in a raid on a house and is rumored to be one of the famed Quantrill's Raiders, whose former members eventually became the James-Younger Gang. Her father's handsome trade as an innkeeper (his personal wealth was estimated to be about $10,000, which was quite a lot of money in those days) was likewise destroyed in this "sack of Carthage." It was in Scyene, Texas – or at least this is what the legends say – that she first threw in her lot with criminal gangs, including the James-Younger Gang. She knew both Jesse James and the Younger brothers from back in Missouri, having reconnected with them during their criminal career in Texas.
It wasn't just that the inn was burned down that caused them to flee. The armies of both sides of the Civil War marauded through the area around this time and everyone was forced to pick a side. Thus, personal reprisals from one side against the other were very common, and even if her father had been able to rebuild the inn, the family wouldn't have been safe (as they were prominent Confederate sympathizers in the town at the time). Indeed, Belle's father enthusiastically supported his son's decision to ride with Quantrill's men.
Starr married Jim Reed, a former member of Quantrill's Raiders who later was a party of the James Gang. Legend has it that they were married by another member of their gang while they were both on horseback – she had had a crush on Reed since she was a teenager. In keeping with the rest of her life story, she first met Reed during a bank robbery in 1866. The pair had a daughter together named Rosie Lee (who they called "Pearl"). It is sometimes rumored that Pearl's father was not Reed, but instead Cole Younger. They had a second child, named Eddie, in California in 1871, after they fled there because Starr was wanted for murder. The pair split up when Reed met another woman.
A Lucrative Life of Crime
After moving back to Texas, Reed tried to go straight by working the land, but quickly fell in with the Starr clan, a family of Cherokee extraction who would steal anything that wasn't nailed down, but had a predilection for big ticket items like horses, cattle and whiskey. Reed was killed in August 1874, in Paris, Texas, where he was attempting to settle down with his new family. Belle Starr reportedly refused to identify the body, so as to deny his killer the reward he was entitled to. After his death, Belle was left totally destitute, which is likely why she returned to her previous life of crime.
Starr was allegedly married to Cole Younger's Uncle Charles for three weeks in 1878, however there is no evidence we have to substantiate this. It's one of those things that's simply part of the legend. We do, however, know that she married Sam Starr of the Starr clan, and the pair moved to Indian Territory together, which was in present-day Oklahoma. The pair continued their criminal activities there for a decade before law enforcement finally caught up to them.
In the meantime, in addition to their lucrative trade in stealing horses and cattle, the Starr's ranch was known as the premier hideout for outlaws. Jesse James himself stayed there for several months. During this time, it was Belle – not Sam – who was the mastermind behind the gang. This is likely a fabrication to sell newspapers, rather than actual fact: the notion of a beautiful woman leading gangs of outlaws was popular at the time and definitely moved units for the burgeoning newspapers that covered Western outlaws.
Prison Time and Belle Starr's Mysterious Death
In 1883, justice finally caught up with Belle and Sam. A lawman by the name of Bass Reeves, the first black deputy U.S. Marshal west of the Mississippi, charged the pair with horse theft, a very serious crime at the time. "The Hanging Judge" Isaac Parker heard their case in Fort Smith, Arkansas. She was convicted and sentenced to nine months, served in Detroit, Michigan, where by all accounts this outlaw became a model prisoner.
Sadly, Sam, who is thought to be the love of Belle's life, was killed in a shootout with lawman Frank West (who was Sam's cousin) in December 1886. She later married his cousin Jim July Starr, who was 14 years her junior, so that she could remain on Indian land. Her numerous affairs with men such as Jack Spaniard, Jim French and Blue Duck (with whom she appears in one of her most famous photographs) were the subject of tabloid news during her day.
Starr was killed two days before her 41st birthday, on February 3, 1889. She was ambushed while riding home from a neighbor's house. Once she fell off of her horse, she was shot again to ensure that she was dead. The legends say that she was killed with her own shotgun.
Frank Eaton, better known as "Pistol Pete," tells a different version of the story. He claims to have witnessed a man named Edgar Watson kill her on her way home from a dance where she spurned him. He also claimed that Watson was convicted of the murder and hanged.
Yet another version of events holds that Edgar Watson was indeed the man who killed her, but that there were no witnesses. He allegedly escaped justice after killing Starr because she planned to turn him in for a reward that was being offered in connection with a murder he had committed in Florida.
Another version says that Starr was murdered by her own son after she beat him for mistreating his horse.
An American Legend
There are a few reasons that Belle Starr became a legend in her own time: She was the fashion plate of the James Gang, often riding side saddle and was a crack-shot rival of Annie Oakley. Her public image was of her sitting side saddle on a horse adorned in black velvet, wearing a plumed hat (though sometimes she preferred buckskin and moccasins), holding double pistols and with bandoliers laid across her lap.
It was this public image that led to Starr being a wildly popular figure in dime novels of her day, as well as the National Police Gazette , a leading true crime magazine of the time. Belle Starr, the Bandit Queen, or the Female Jesse James was the biggest book about her, penned in 1899 by National Police Gazette publisher Richard K. Fox, which is still considered one of the best historical sources about her.
One of the primary pieces of pop culture celebrating her life is Belle Starr, a 1941 Western film. There is also a 1968 spaghetti Western called The Belle Starr Story , in addition to a number of other films, television shows and books for those who are seeking to learn more about this singularly iconic figure in American history.
Belle Star is part of a tradition in American history of America's love affair with the outlaw. A fascination with and an admiration of those who live by their own laws is deeply embedded in the American psyche.
Belle Starr: The Untold Story of the American Outlaw Known as the Bandit Queen originally appeared on the Resistance Library on Ammo.com