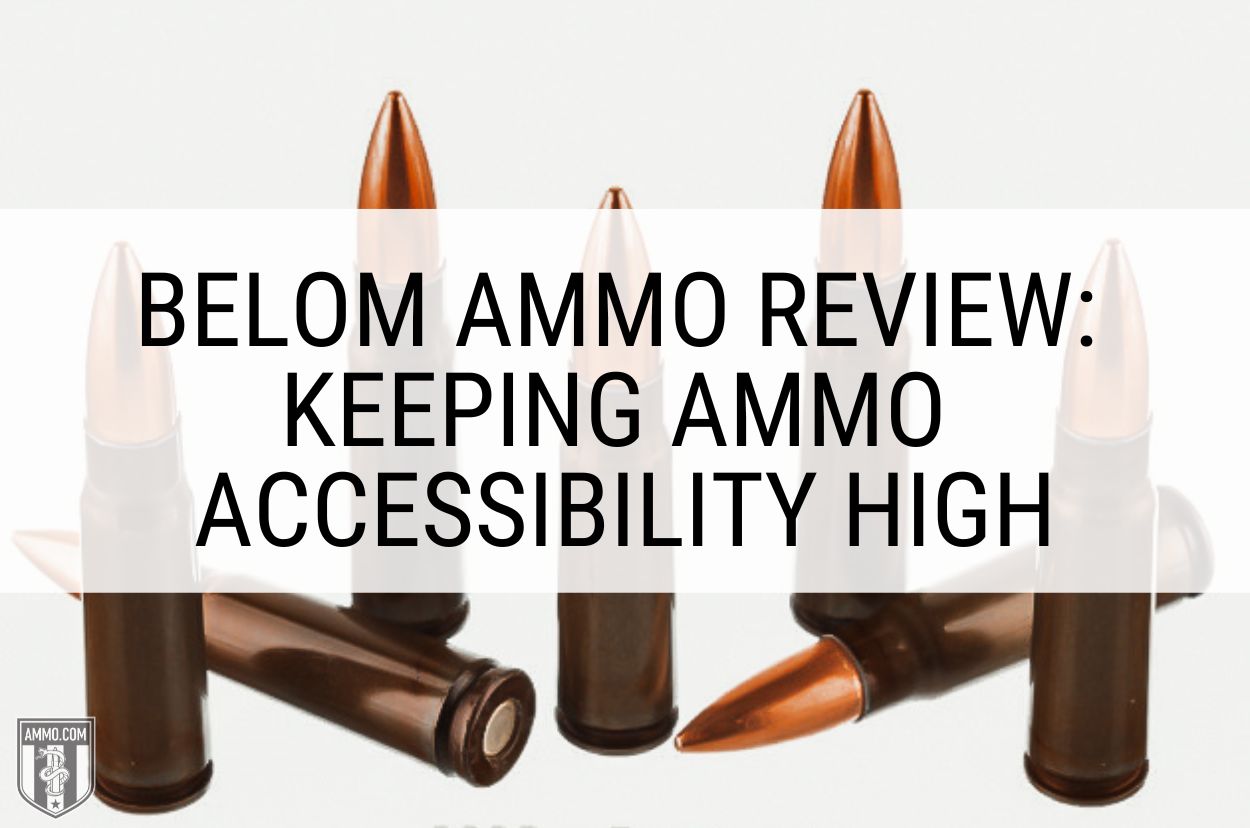 During the events of 2020 and 2021, ammo shortages were a real thing. Although you might have been picky about your practice ammo pre-2020, surging prices and scarcity drove many shooters to try out new ammo companies to ensure their range time was not significantly impacted.
One such manufacturer that started making waves in the North American shooting community was a Serbian company named Belom. With their Tupperware-esque plastic boxes and green-sealed primers, Belom offers shooters great ammo at a good price that cannot be ignored.
But is Belom ammo good for you and should you stock up on these new rounds from Serbia? In this in-depth Belom ammo review we will take a deep dive into what makes Belom quality ammo and why you should consider adding it to your target practice bulk ammo purchase.
Is Belom Ammo Good?
Belom ammo offers quality ammo at a good price. In short, this is good stuff. They are relatively new to the American market compared to ammo production mainstays like Winchester, Remington, Blazer Brass, and Magtech, but Belom ammunition is excellent for target practice and keeping your marksmanship skills high without breaking the bank.
Pros and Cons?
As much as we love ammo, we understand that no manufacturer is perfect. Here are some of the pros and cons of Belom ammo you should be aware of.
Pros
Less expensive than some new production US-made brands
Plastic boxes perfect for storage in an ammo can
Sealed primers offer long-term storage security
Cons
Only available in 9mm Luger and 7.62x39
Not the cleanest burning ammo
Which Calibers are Available?
Belom currently manufactures the following calibers:
Belom Ammo History and Important Information
Belom Ammunition was established in 2015 and is a small arms manufacturer that was established to supply the Serbian military with ammunition. Belom is partially owned by the Serbian government and is the sister company to Prvi Partizan (or PPU for short).
Although Belom is a relative newcomer to the ammunition scene, they have established themselves in Europe and North America as a fine producer of mil-spec ammunition that is also available to the public.
If you've ever shot PPU ammo before, I'm sure you're well aware of the quality and consistency of Serbian ammo. Belom continues this tradition by offering high-quality brass cased ammo at affordable prices.
If you love shooting your AR-15 in 223 Remington or 1911 in 45 ACP, sadly you're out of luck with Belom. At the time of writing, Belom only has two offerings in North America, 7.62x39 and 9mm ammo. However, we found this ammo to be extremely reliable but somewhat dirty in our firearms.
Their 9mm ammo is probably the most tested ammo on the market, as many shooters needed inexpensive target ammo during the crisis of 2020 and 2021. Loaded with a 124 grain FMJ bullet, Belom advertises their muzzle velocity to be 1,230 fps.
That's a little hot for standard 9mm Luger ammo, however they tested their handgun cartridges in a 7" proofing barrel, so you should not expect to achieve this muzzle velocity in your standard Glock or Springfield Hellcat.
In terms of accuracy, this will do well for standard target sports like USPSA or Steel Challenge, but don't expect to win any bullseye competitions with it.
The plastic boxes Belom ships their handgun and rifle ammunition in were particularly interesting. They somewhat reminded us of grandma's Tupperware, but in general were extremely functional at helping waterproof the cartridges. Furthermore, these boxes stacked very well in your standard 50 cal ammo can, making it a great choice if you want to store some bulk ammo in case of future shortages.
Although it might look a little odd to some shooters, the green sealed primers also help increase the longevity of this ammo. Belom states their ammo is good for 15 years, which is a good 5 years longer than some American ammo manufacturers who only guarantee 10 years of shelf life.
The bottom line is that Belom sells great ammo at a great price. It's good stuff and customer reviews around the internet reflect this. If you're looking for quality ammo, whether it be 9x19mm NATO handgun ammunition or 7.62x39 rifle ammunition, Belom Ammunition has an excellent track record and I'd be more than comfortable putting in a bulk ammo order any time!
Where is Belom ammo made?
Belom Ammunition is a small arms company that produces ammo in Pozega, Serbia.
FAQ's
Is Belom 7.62 x39 good?
Belom 123 grain full metal jacket 7.62x39 ammo is a great choice for your AK-47, SKS, or Ruger Mini-30. As this is a traditional FMJ bullet, it is safe to use on indoor ranges as opposed to traditional bimetal bullets used for 7.62x39. Although it's not super clean, this ammo works well and is good stuff.
What is the difference between Belom ammo and Wolf ammo?
Belom Ammunition uses brass cases that are Boxer primed while Wolf ammo is steel-cased and typically uses Berdan primers. Furthermore, Wolf ammo is made in Russia while Belom is made in Serbia.
Is Belom 7.62x39 steel cased?
No, Belom uses brass cases that are Boxer primed for their 7.62x39 ammo.
Is Belom ammo corrosive?
No, Belom ammo is loaded with non-corrosive Boxer primers.
Is Belom ammo accurate?
Belom ammo is accurate enough for range work, general target shooting, and plinking. It is not match-grade but more than accurate enough for this price point.
What primers does Belom Ammunition use?
Belom uses non-corrosive Boxer primers in all their centerfire ammunition. Belom also seals all of their primers to protect them from exposure to the elements and increases their shelf life to 15 years.
Are Belom cases good for reloading?
Yes! Belom only loads brass cases that are Boxer primed, which are perfect for reloading.
Belom Ammo Review: Keeping Ammo Accessibility High originally appeared on Ammo.com