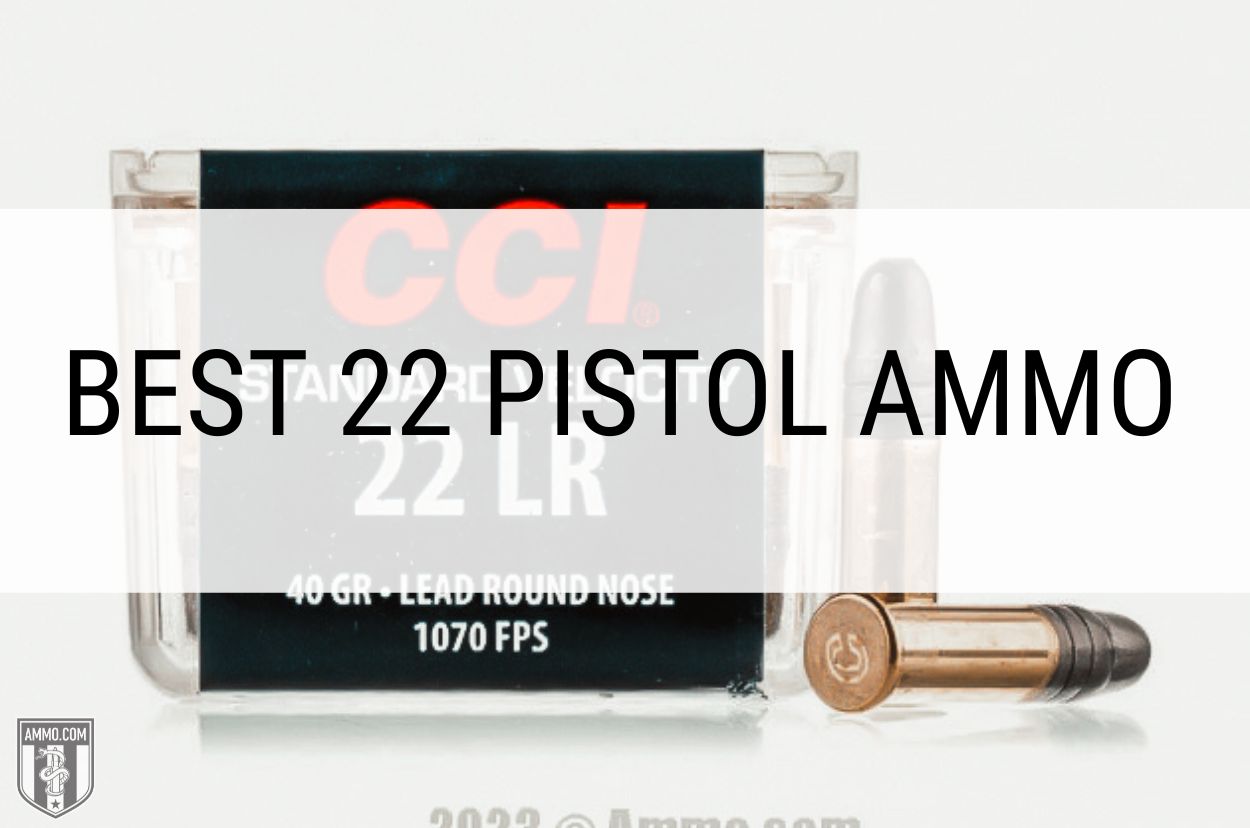 The humble .22 Long Rifle has remained one of the most popular rounds on the planet for many decades, and with good reason. It's used in everything from AR platform rifles to precision bolt actions to a mind-boggling variety of handguns.
Today we're going to be focusing on the latter and taking a close look at the best .22 pistol ammo on the market today. We've done a lot of testing to find out what performs the best in the widest variety of .22 pistols we could get our hands on.
Our top overall pick is CCI Standard Velocity because it's a great general-purpose option that can do it all.
We also have more specific options for plinking, small game hunting, competition, self-defense (yes, from other humans), suppressed shooting, and a bulk option for those who want to have enough ammo to outlast the end of days.
Top 3 Ammo Picks for .22 Pistol
CCI Standard Velocity - Best Overall
Federal AutoMatch - Best For Plinking
Winchester Super-X - Small Game Hunting
Now let's take a look at our overall winner; then, we'll dive into our individual category winners and a buying guide to help you choose the best .22 ammo for your pistol and the particular type of shooting you're doing.
Specs
Bullet Type: Lead Round Nose
Bullet Weight: 40gr
Muzzle Velocity: 1070fps
Muzzle Energy: 102 ft-lbs
Casing Type: Brass
Pros
Affordable
Feeds well in most pistols
Cycles reliably in semi-autos and extracts easily in revolvers
Available in bulk
Cons
Not ideally suited for hunting or defense
Soft lead projectile
Why We Chose It
Our top overall choice, CCI Standard Velocity, worked the best in the most semi-auto .22s we tested it in, it's very affordable, and you can get it anywhere that sells ammo.
Seriously, this was some of the most reliable ammo of the lot, and while it is a touch more expensive than some of our budget and bulk favorites, I think the greater reliability is worth the tradeoffs.
It was very consistent in terms of velocity, and we had a great time lining up some targets at the range and rapid-firing entire mags into the A-zone of a USPSA silhouette from 10 yards. The high initial velocity also keeps the projectile relatively stable in the air at longer ranges, for what that's worth when you're shooting .22 LR out of a pistol anyway.
It's also fairly affordable at around $.12/round, which is on the higher side for .22, but nothing like what you'd pay for match ammo or anything truly high-performance. All in all, this is a great general-purpose option.
Honorable Mention: Federal Champion Value Pack. This is another great option that's a little cheaper but still runs like a champ (it's in the name, after all). Great performer with a standard 36gr lead round nose projectile.
Best .22 Ammo for Pistol Plinking - Federal AutoMatch
Specs
Bullet Type: Lead Round Nose
Bullet Weight: 40gr
Muzzle Velocity: 1145fps
Muzzle Energy: 128 ft-lbs
Casing Type: Brass
Pros
Affordable
Available in bulk
Cycles and feeds reliably in most semi-autos
Reliable primers
Cons
Soft lead projectile
Underpowered (may not cycle stiffer semi-autos reliably)
Not great for hunting
Why We Chose It
Federal AutoMatch is another solid performer that works in a variety of semi-autos. It cycles reliably, and the primers go bang when you ask them to, which is honestly high marks for such cheap rimfire ammo.
We've all been stuck using our fingernails to pry an unfired .22 out of a chamber because the primer just refuses to do its job, which isn't a huge deal when you're out plinking, but it does definitely put a damper on your day.
Especially if you have to stop halfway through a mag multiple times to fix a malfunction that's pretty clearly because of an ammo defect. With Federal's AutoMatch, semi-auto pistol shooters will have fewer issues and much better performance, even compared to more expensive bulk pack options.
Honorable Mention: Remington Thunderbolt 22 LR ammunition is another reliable lead-nose round at a solid price.
Best .22 Pistol Small Game Hunting Ammo - Winchester Super-X
Specs
Bullet Type: Winchester Power Point CPHP
Bullet Weight: 40gr
Muzzle Velocity: 1435fps
Muzzle Energy: 183 ft-lbs
Casing Type: Brass
Pros
Excellent Small-Game Hollow Point
The copper-plated projectile is harder and more consistent than soft lead
Reasonably priced for hunting-grade ammo
The 40-grain bullet is about the maximum you'll get with supersonic 22lr ammunition
Cons
More expensive than more basic copper-plated hollow points
Why We Chose It
Winchester Super-X is a much-beloved line of hunting ammo that spans a variety of calibers, so we had high hopes for the .22 version. Thankfully, we weren't disappointed. It fed and cycled reliably, and I've personally used it to hunt small game and pest animals with great reliability.
It has a fairly high velocity for a .22 LR, especially at this kind of price point, and the copper wash on the hollow point is layered deep enough that it actually makes a difference in how the bullet performs vs. a standard lead projectile with a hollow nose. Sometimes, that's not the case.
Not all copper-plated .22 ammo is made equally, and that matters when we're looking for .22 pistol ammo in particular because a softer lead projectile, or even a low-quality copper-plated projectile, can deform when feeding.
This can cause a jam that can really ruin your hunt if it happens when you need that key follow-up shot. For that reason, a well-made projectile is key here, and the Super-X Power Points have been very reliable on that front.
Honorable Mention: CCI Mini-Mag is another great hunting choice and the option of choice for A&E's Swamp People, so if you want something that's proven to work on at least gator-sized game (with proper shot placement), this is a solid pick.
Best .22 Ammo for Pistol Competition - CCI Pistol Match
Specs
Bullet Type: Lead round nose
Bullet Weight: 40gr
Muzzle Velocity: 1070 fps
Muzzle Energy: 102 ft-lbs
Casing Type: Brass
Pros
Match-grade rimfire performance
Some of the cheapest competition-grade rimfire ammo
Very consistent velocity
Incredibly reliable primers
Hardened lead projectile (antimony alloy)
Cons
Still expensive
Lead round nose bullet is still softer than a copper-washed projectile
Why We Chose It
CCI Pistol Match is one of the go-to options for target competitors around the world. This is the official ammo of a few major national and international .22 pistol and rifle competitions, so we had high hopes for it out of the gate. Thankfully, it didn't disappoint.
Velocities are very consistent, primers are reliable, and groups are as tight as you can expect from a standard .22 pistol. If you're going to the Olympics or there's serious money on the line, there are some other more expensive options out there (Lapua Center-X, etc.), but for us average folks just shooting some steel challenge or what have you, this is a great option.
Honorable Mention: Federal Target Grade. Consistent velocity, good primers, and harder-than-average lead round-nose projectiles. It's also very affordable for a match(ish) grade .22 round.
Best .22 Pistol Ammo for Self-Defense - CCI Stinger
Specs
Bullet Type: Copper-Plated Hollow Points
Bullet Weight: 32gr
Muzzle Velocity: 1640 fps
Muzzle Energy: 191 ft-lbs
Casing Type: Nickel-Plated Brass
Pros
Some of the highest-velocity commercially available .22 ammo on the market
Copper-plated hollow points feed reliably and maintain integrity better than lead
Extremely high velocity for .22 LR ammo (approaching .22 Magnum speeds)
Also very capable when hunting small game or varmints
Cons
32gr projectile instead of the more common 40gr for .22 defensive rounds
It's still a .22 (not the ammo's fault, just don't expect centerfire performance here)
Why We Chose It
You may not think of a rimfire pistol as your first option when it comes to self-defense, and in the interests of full disclosure, it's not my first choice either.
That said, for folks with less than stellar hand strength, very inexperienced shooters, or for those who carry a pint-sized backup concealed carry like an NAA revolver or Lifecard, then a hyper-velocity .22 is a great option, especially if you're carrying CCI Stingers.
No .22, not even .22 WMR, is going to be able to compete with even the lowest end of defensive centerfire rounds like .380 ACP. However, with CCI Stingers, you've got just about the most velocity you can get out of the cartridge, coupled with nickel-plated cases that feed and extract more reliably than brass cases.
The other problem is that you have a 5-inch barrel or less on most .22 pistols, so the ammo you choose has to be very high-velocity. It doesn't get much higher than these.
Lastly, the high-quality copper-plated hollow point bullets reduce lead fouling, feed more reliably, and have a better chance of penetrating bone than a soft-lead bullet. In soft tissue, that hollow nose helps the round expand so you get the most out of the admittedly diminutive diameter of the round.
Overall, if it weren't for the cost, these would have been our overall pick just based on performance and the fact that they're accurate enough for target shooting and hit hard enough for self-defense, home defense, or hunting too.
Honorable Mention: Eley High Velocity is another hollow point that has enough speed behind it to be a decent defensive candidate in a pinch. Eley's rimfire ammunition, in general, is very high quality and a great option overall.
Specs
Bullet Type: Black Copper Coated Lead Round Nose
Bullet Weight: 45gr
Muzzle Velocity: 1090 fps
Muzzle Energy: 119 ft-lbs
Casing Type: Brass
Pros
Very heavy projectile
Subsonic out of both pistols and rifles
Very low muzzle flash
Plated lead projectile for reduced fouling and better feeding
Cons
May not cycle some guns
Expensive
Why We Chose It
Winchester Super Suppressed is a great option for anyone looking to quiet down their .22 pistol.
Suppressing a .22 is a great idea in general, but having the right ammo makes all the difference.
The lightweight, relatively slow bullet makes it a great choice for suppressing, the low pressure means .22 suppressors are dirt cheap compared to something like a centerfire rifle caliber suppressor, and you have a variety of different types of ammo available based on what you're looking to do.
Winchester Super Suppressed is one of the best-performing subsonic .22s we've tested, and I can personally confirm that it fed and cycled reliably in my M&P 22, Browning Buckmark, Walther P22, and Ruger 10/22.
The plated 45gr projectile leaves less fouling, which is great when dealing with traditionally dirty .22 semi-autos, which get even dirtier once you add a suppressor into the mix.
Honorable Mention:
Specs
Bullet Type: Copper-Plated Hollow Points
Bullet Weight: 36gr
Muzzle Velocity: 1280 fps
Muzzle Energy: 131 ft-lbs
Casing Type: Brass
Pros
Very affordable
Consistent primers
Copper-plated projectile
Cons
Inconsistent velocity
A little slow for dedicated hunting use
Why We Chose It
Winchester Target & Small Game, also informally known as Winchester White Box, is a perennial favorite among shooters who like to shoot a lot (or at least be prepared to). It's one of the most affordable options out there, is frequently available in bulk packs and cases of thousands of rounds, and actually works even in cantankerous semi-auto pistols.
It's a great multi-purpose option that works well for both of its stated purposes. As a target round, it goes more or less where you tell it to, and it goes bang when you want it to, which is all most of us plinkers really need. For more serious target shooting, there are better options, but this is a great training choice.
As a hunting round, there are better choices as well, but I've still hunted countless small game animals with this stuff, and so have others. It's a solid performer vs. snakes, squirrels, and other varmints.
Lastly, it's cheap. If you're looking to shoot all day, want enough ammo on hand to ride out a shortage (or the apocalypse), or you're just looking to get some training in on a tight budget, this is the choice for you.
Honorable Mentions: Aguila Super Extra is another affordable 22LR ammo option that you can get in massive quantities without breaking the bank. It's a solid performer and one that I was pleased to find cycled well in all of our semi-automatics.
Blazer 22: Yet another affordable option for those looking to "buy it cheap and stack it deep." I tend to pick up a brick whenever I have a new .22 to test out, and it's my go-to for those days when I'm teaching new shooters as well.
You can also check out our full list of the best bulk .22 ammo options for more ideas.
This close look at all the best .22 ammo options out there should give you all the info you need to find the right ammo for your gun and specific shooting circumstances, but if you'd like a little more info on .22 pistol ammo in general, you'll find that below.
.22 LR Ammo Buying Guide & Additional Info
When you're choosing any ammo, there are a number of considerations to keep in mind. We're going to take a look at some of the specific things to be aware of when choosing .22 pistol ammo and answer a few frequently asked questions we see a lot.
Choosing .22 Pistol Ammo for Various Uses
First, let's discuss the most common uses for a .22 pistol and how to choose the right ammo for each.
Choosing .22 Ammo for Hunting
When choosing hunting ammo, the most important consideration is the ability to secure a clean, ethical kill with a single bullet. Now, you can technically kill anything that walks the earth with a .22, but…obviously, there are practical limits.
The reality is a .22 is only ever going to be an effective hunting tool for very small game and pest species. Think rabbits, squirrels, snakes, and the like.
For this type of hunting/pest control, you can probably get by with standard lead round nose (LRN) projectiles, but really you'll want a copper-plated hollow point of at least 32gr and moving over 1200fps if at all possible.
This will give you the energy to deal with small game animals and pests reliably and will reliably cycle something like a temperamental semi-auto as well.
Choosing .22 Ammo for Plinking
For plinking, probably the most common use for a .22 pistol, the chief criteria is typically going to be the cost per round. Fortunately, bulk .22LR is probably the cheapest ammo on the planet, with some of the more budget-minded options coming in around $.08/round these days.
This makes it a great option for training as well, and is why you can get a .22 LR equivalent of most popular firearms, including AR-15s, Glocks, precision bolt actions, and more. This allows for some very affordable training with a very similar platform.
Is this type of ammo always super reliable? Unfortunately not, but for just blasting holes in old soda cans or exploding clay pigeons, that doesn't matter so much. On the training side of things, you could even look at a dud primer or failure to extract as a feature instead of a bug.
After all, it forces you to practice your malfunction clears. Of course, we don't want to spend all our time clearing stovepipes, but the occasional tap-rack-bang never hurt anybody at the range. Choose something from a reliable, well-known brand, and you'll be just fine.
Choosing .22 Ammo for Target Shooting/Competition
For serious target shooting or competition, we need to step things up a little bit, and the bulk pack plinking ammo may not quite get the job done anymore. The sky is the limit here, and you can start getting ammo that costs $.40/round or more.
This is typically for something like NRL22, which involves using a .22 rifle to hit 3" targets at 100 yards. Not something you'd typically do with a .22 handgun unless maybe you're Jerry Miculek.
For handguns, high-velocity match-grade ammo can be had for $.25-$.30/round because you really don't need the consistency demanded by something like NRL22.
That said, if you're qualifying for a major competition or there's serious money on the line, maybe pony up for the good stuff, eh?
Choosing .22 Ammo for Defense
Lastly, and most contentiously, we have .22 pistol ammo for self and home defense.
I know, I know, it wouldn't be the first thing I would reach for either, but for certain shooters, it makes a lot of sense. My mother is in her 70s and has arthritis, and her hand strength wasn't super great, to begin with. For her, racking the slide on even a small .380 or 9mm isn't an option.
She can yank back the extended grab handle on Ruger Mark IV, though. And I personally agree with her that 10 rounds of high-test .22 are a lot more effective at stopping a human attacker than harsh language or appeals to their better nature.
There are also a host of backup/holdout/micro-carry .22 options out there, like NAA revolvers, the Lifecard, and other derringer-style guns that people carry regularly. If that's the case, and you've only got a few shots of an already-underpowered cartridge, you definitely need them to be good ones.
In that case, I recommend getting the highest-velocity defense-focused ammo you can. Something leaving the barrel at 1400fps+, with a nice slick nickel-plated casing and a well-designed hollow point. The CCI Stingers we talked about earlier, or Federal Punch ammo are both good choices.
Frequently Asked Questions
Below you'll find some of the most commonly asked questions regarding .22 pistol ammo.
What grain is best for 22 LR?
The grain best for 22 LR is 36-40gr. They offer a good mix of mass and velocity and will feed well in most semi-autos, including a .22 pistol.
What is the best 22 pistol for self-defense?
The best 22 pistol for self-defense is the Walther P22 Q because it offers immense reliability, great shooting characteristics, the ability to add a light, and is incredibly accurate.
What is the best 22 LR pistol for target shooting?
The best 22 LR pistol for target shooting is the Ruger Mark IV and Browning Buckmark. They are both classic Luger-style .22s that have seen great success in the production target shooting world, especially when paired with the best .22 pistol ammo.
Parting Shots
Having the best .22 pistol ammo possible can make all the difference at the range, on the competition field, or on the hunt. These wonderful little workhorses might be some of the most versatile firearms on the planet, but they can also be temperamental.
So check us out at Ammo.com if you want to buy the best 22 LR ammo from a trusted source.
Best 22 Pistol Ammo: Plinking, Hunting, Competition and More! originally appeared on Ammo.com