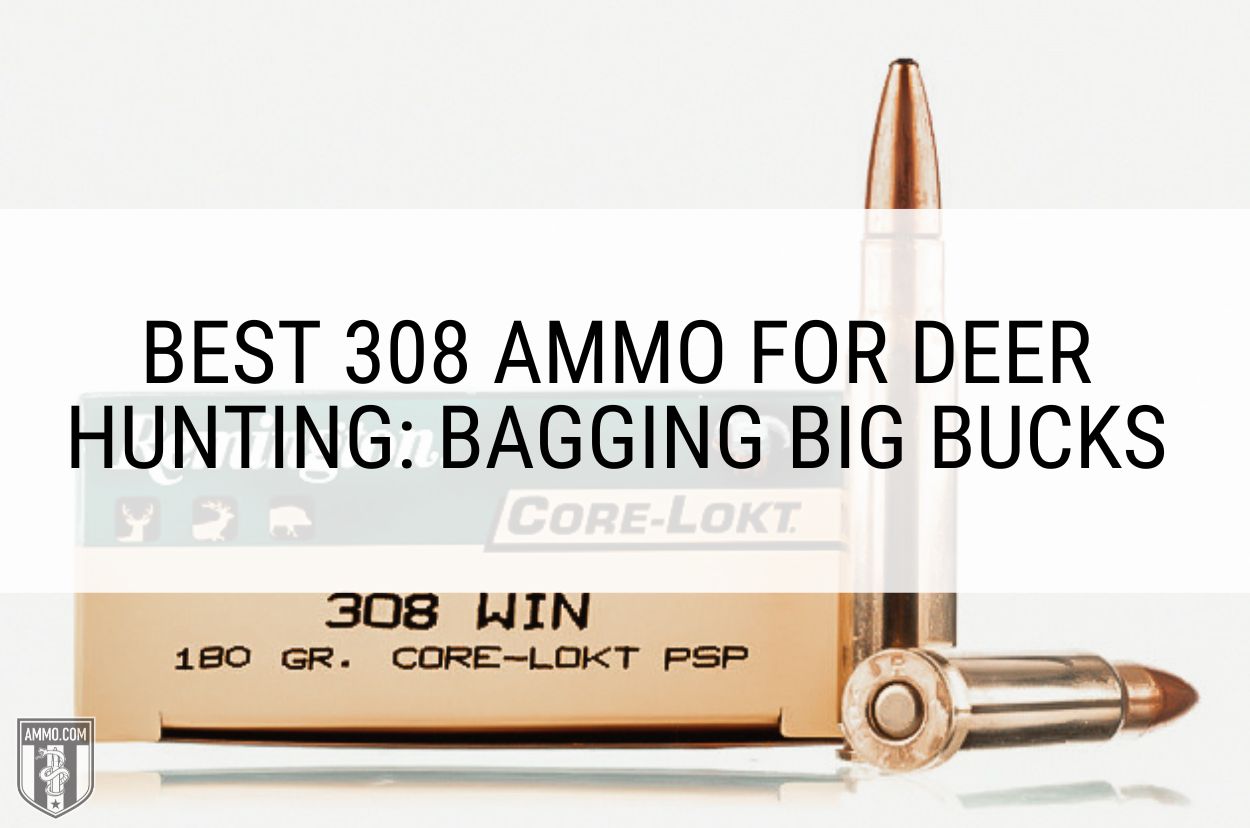 Ask any five deer hunters what the best 308 ammo is for deer and you'll likely get five different answers. The truth is, there are a lot of excellent deer hunting factory loads for 308 Winchester (308 Win for short) as the round is flat shooting, has amazing stopping power, and you have a wide variety of different bullet profiles to choose from.
However, if you want to ensure that you're baking Bambi's backstraps at deer camp instead of tracking blood trails for hours on end…Then you've found the right article!
Below you'll find our top six favorite 308 Win deer hunting loads on the market for 2023. Although this is not a comprehensive list, these selections have proven time and time again to put the venison on your plate instead of bounding into the brush.
If you simply can't wait, our favorite deer hunting round is Winchester Deer Season XP 150 gr Extreme Point. However, if you want the full list keep on scrolling or if you want to understand what makes for an amazing deer hunting cartridge, then check out our Buyer's Guide HERE.
Quick Administrative Note: I know you're ready for the top 6 list and it's right below. This article is wholly focused on deer hunting, but if you're looking for the best overall 308 Winchester ammo for hunting and target shooting, then check out this article: The Best 308 Ammo for Hunting and Target Shooting.
The Best 308 Ammo for Deer Hunting Top Picks
The Best .308 Ammo for Deer Hunting Overall
Specs
Casing: Brass
Bullet Type: Extreme Point
Bullet Weight: 150 gr
Muzzle Velocity: 2,820 FPS
Muzzle Energy: 2,648 FT-LBS
Pros
Optimized polymer tip for ideal penetration and expansion
Affordable
Built specifically for deer hunting
Cons
Results vary depending on the rifle
Why We Chose It
If you're looking for a premium deer hunting round that has the terminal performance to stop a trophy whitetail or mule deer dead in its tracks, then look no further than Winchester Deer Season XP.
Winchester designed the Deer Season XP line of ammunition with the specific needs of deer hunters in mind. Descended from the legendary Winchester Power Point bullet, the Extreme Point 150-grain bullet offers deep penetration combined with wicked expansion to really quickly and ethically put down any trophy buck that wanders near your tree stand.
The secret to the Extreme Point's effectiveness is tied to its aerodynamic polymer tip. Not only does it protect the oversized hollow point during chambering, but the tip also initiates expansion immediately when it encounters soft tissue.
This puts down deer fast so long as your shot placement is on point, and with its low price point you'll have more than enough opportunity to get out to the range and practice those long-range hunting shots.
When you combine all of these qualities together, the result is more venison in your freezer, an amazing rack of antlers on your wall, and a story to tell your hunting buddies that you'll never forget. And if you want that, then make sure your bolt-action deer hunting rifle is loaded with Winchester Deer Season XP 150 Extreme Point ammo this fall!
Specs
Casing: Brass
Bullet Type: Super Shock Tip
Bullet Weight: 150 gr
Muzzle Velocity: 2,820 FPS
Muzzle Energy: 2,648 FT-LBS
Pros
Loaded with Hornady's reputation for quality
Excellent weight retention and terminal performance
Availability
Cons
More expensive than Winchester
Why We Chose It
If you plan on hunting medium-sized game and want a round with a flat trajectory and devastating terminal performance, then Hornady Custom 150 gr SST ammo is what you need for your next hunt.
The Hornady SST combines everything hunters love from Hornady's groundbreaking Interlock Soft Point design and integrates it into a hollow point projectile with a polymer tip to initiate expansion. Upon impact the tip is forced into the hollow point to initiate expansion. delivering tremendous shock to a whitetail and creating a massive wound channel that can put a deer down fast.
The SST bullet utilizes an aerodynamic secant ogive bullet profile for a flatter trajectory, tapered jacket for deep penetration, and the patented Hornady Interlock ring that locks the lead core to the jacket and thereby increasing weight retention.
All in all, the Hornady Custom 150 gr SST is an incredibly close runner-up to our top pick and is only supplanted due to a slightly higher price point. However, given Hornady's outstanding reputation for loading incredibly accurate and deadly ammo, a slightly higher price is easily justified when you want to make sure that trophy buck ends up on your wall.
Specs
Casing: Brass
Bullet Type: Triple-Shock X
Bullet Weight: 168 gr
Muzzle Velocity: 2,650 FPS
Muzzle Energy: 2,619 FT-LBS
Pros
Great quality and reputation
High velocity for its weight
Triple-Shock X bullet offers excellent expansion and penetration
Cons
It's pricey, but it's also spicy
Why We Chose It
When shooters talk about Black Hills ammo, phrases like "incredibly accurate", "extremely consistent", and "excellent terminal ballistics" are commonplace. The Black Hills Gold 168 gr TSX holds true to this legacy and is unquestionably a deer hunting round that should be on your short list to pickup this fall.
Although this offering from Black Hills is firing a heavier bullet than our first two selections, it still maintains a high muzzle velocity and flat trajectory desired for those long range shots.
The Barnes TSX bullet is the heart of this Black Hills Gold factory load, providing unparalleled stopping power and accuracy that is stops whitetail, black bears, feral hogs, and any other 4-legged varmint dead in their tracks.
Machined from a solid piece of copper, Triple-Shock X bullets utilize a traditional hollow point bullet that offers exceptional penetration and expansion that's needed when taking on big game animals. And as the bullet is lead-free to boot, which means it's legal for use in states like California.
If you're familiar with Barnes Bullets and the TSX, you'll know that it is the big brother to their newer model, the TTSX (Tipped Trippe-Shock X) bullets. Both are excellent hunting bullets, but Black Hills opted to go with the classic model and who can blame them?
We know a lot of people talk about the price of the Black Hills Gold TSX, but when you consider you're getting an average of 60 pounds of meat for $3, and you don't have to spend hours tracking an injured Cervidae, it's more than worth it!
Specs
Casing: Nickel-Plated Brass
Bullet Type: Terminal Acent
Bullet Weight: 175gr
Muzzle Velocity: 2,600 FPS
Muzzle Energy: 2,627 FT-LBS
Pros
Bonded construction for high weight retention
High ballistic coefficient for long range shots
Designed for excellent expansion at high and low velocity
Cons
Why We Chose It
The Federal Terminal Ascent is not only one of the heavier bullets on our list, but it's an exquisitely designed, polymer-tipped, and high-quality round that feeds well. The nickel-plated brass makes for smooth chambering, and the bonded lead core helps the projectile retain its weight on impact.
Federal designed the Terminal Ascent with its patented Slipstream polymer tip to give the bullet a flatter trajectory (because accuracy is important), but it also helps with low-velocity expansion.
Capable of taking big game animals like elk and caribou, the Federal Premium 175 gr Terminal Ascent is more than capable of taking down any whitetail or mule deer that crosses your path.
This Federal Premium hunting ammo is one deer hunting round that you don't want to miss when it's in stock even though it's a little pricey. But as Federal says on their website regarding Terminal Ascent, "Any hunt. Any range." And that is performance most hunters are willing to shuck out a few extra shekels for!
Specs
Casing: Brass
Bullet Type: Extremely Low Drag - Expanding
Bullet Weight: 178 gr
Muzzle Velocity: 2,600 FPS
Muzzle Energy: 2,672 FT-LBS
Pros
Match-grade accuracy and reliability
Backed by Hornady's reputation and consistency
High ballistic coefficient for long-range shots
Cons
Heavier bullet weight
Heavier price tag
Why We Chose It
Any competitive shooter will tell you that match ammo is excellent for long range precision shooting, but any hunter will also tell you that match-grade ammo isn't ethical for hunting deer (or any game, for that matter). Hornady solved this issue by taking the best qualities of their match ammo and combined it with an expanding bullet to create one of the most deadly hunting bullets ever made.
The Hornady ELD-X is one of the top long-range hunting bullets on the market, walking in the same circles as long-time standbys like the Accubond Long Range or Berger VLD.
The Hornady ELD-X integrates many of the same qualities as the SST, which was our #2 pick earlier in this article. It utilizes the Interlock system to keep the lead core and jacket of the bullet intact during expansion as well as a smooth, sleek design with a high ballistic coefficient for long-range accuracy.
Hornady combined their highly concentric AMP bullet jacket technology with their equally impressive Heat Shield tip to create a bullet that is not only streamlined but also extremely deadly.
Although Hornady Precision Hunter ammo is extremely accurate and effective against large game animals, it also carries a price tag to match that performance. However, as most hunters aren't spending the weekend plinking with their hunting rifle and only need a few boxes of ammo per year, that price tag is well worth the added performance Hornady Precision Hunter 178 gr ELD-X offers.
Specs
Casing: Brass
Bullet Type: Pointed Soft Point (PSP)
Bullet Weight: 180 gr
Muzzle Velocity: 2,743 FPS
Muzzle Energy: 2,620 FT-LBS
Pros
Affordable and Effective
Easy to find
Trusted by generations to bring home the venison
Cons
Not as accurate as some premium rounds
Why We Chose It
The Remington Core-Lokt 180 gr PSP is the closest thing you'll get to your Grandpa's favorite hunting rounds. You don't get a lot of bells and whistles with these hunting cartridges, but they hit hard and simply get the job done.
Remington designed the Core-Lokt in the late 1930s and has been one of the flagship hunting cartridges for the company ever since. Although it may not be as sleek or accurate as an ELD-X, but the Core-Lokt simply slaps and can easily fell a deer with one bullet with good shot placement.
Combine all this with a price tag every hunter can afford, there's no way that we couldn't include this classic big game hunting round.
Parting Shots
The 308 Win has a long and storied history of being an extremely accurate and effective deer hunting round. Picking the best 308 ammo for deer is always something that is a little bit subjective, but if you pick any of the rounds on our top 6 list, we promise you won't be disappointed.
No matter your preference, do keep in mind that ammo goes fast especially when the leaves start to change colors. When you see a few boxes available, grab them up and put them away for deer season.
You can click HERE to go back to the top of our list or scroll down to our buyer's guide to learn more about choosing .308 ammo for hunting.
The Best 308 Ammo For Deer Buyer's Guide
Welcome to our .308 Winchester for deer hunting buyer's guide! In this section, we'll review some tips to help you pick out your next favorite deer-hunting bullet. We also have tips to help you pick your next favorite .308 ammo for other hunting and shooting activities.
.308 Winchester Deer Hunting Bullet Types Explained
Finding good deer hunting ammo is pretty easy when you know what to look for. When I first started buying deer hunting ammo (many years ago), I picked up whatever box was cheap and had a picture of a deer on it (let's be honest, that's great marketing). Now, as an avid hunter, one of the first things I look at is the bullet type and design.
Bullets react with their targets in different ways depending on their composite and design (this is called terminal ballistics). For example, you've probably heard of FMJs (Full Metal Jackets). These rounds have a soft lead core covered with a thin jacket (typically copper), and they're most useful for target shooting and plinking because they are inexpensive.
FMJ ammo is great for a fund day at the range, but they don't expand on impact when they impact soft tissue. Despite the muzzle velocity, trajectory, and ballistic coefficient, these bullets aren't going to create a wound channel sufficient enough to ethically take down large to medium sized game like whitetail deer or feral hogs.
Now you might think that hollow point bullets are the way to go for deer hunting, but this is also a misconception. Although jacketed hollow points are excellent for self-defense handgun ammo, they simply aren't great for deer hunting. Most hollow point rifle bullets are match-grade (like the Sierra Matchking) and designed for long range shooting and accuracy.
Accuracy is definitely important when you line up your sights on a trophy buck. But since match ammo doesn't offer any advantages in terminal ballistics over FMJ ammo, they simply aren't appropriate for deer hunting.
So, the only suitable hunting ammo types are bullets that reliably expand when they encounter a big game animal. These bullets types include Soft Points, Polymer Tips, SSTs (Super Shock Tip), ballistic tips, PSP (pointed soft point), or something like the Nosler Partition.
.308 Deer Hunting Rifle and Ammo Tips
Rifle selection is an important part of deer hunting, as you need to make sure that your rifle can deliver your hunting bullets to where they need to go.
You don't need the hottest hunting rifle on the market to put down big game, regardless of what the kind salesperson behind the gun counter tells you. Your great uncle's Ruger Hawkeye bolt-action rifle, Granddad's sketchy Henry 30-30 lever action rifle (speaking from experience here), or the hottest semi-automatics can all equally put deer on your kitchen table.
No matter your rifle preference, there are some things that you should know about finding the perfect cartridge to drop a mule deer on the spot.
As mentioned previously, you'll want to get out to the range before deer season. Most factory loads (and even hand loads) perform differently depending on the rifle. These variations are further exacerbated by varying twist rates and casings.
If you love to hunt, you should love to go target shooting too. Shot placement is just as important as terminal ballistics, so pick up a few boxes of .308 ammo from different manufacturers, and get out to the range to find out which ones are most accurate in your chosen hunting rifle.
Naturally, you'll also want to keep your rifle clean and in good working order. A rifle you don't take care of will not take care of you (or any wild game hunting). This tip also includes taking great care of your scope (hence, also getting out to the range).
Another thing to consider when using the .308 Winchester for deer hunting is distance. The options listed above tend to perform well within 400 yards. But before you take those long-range shots, ensure your rifle and ammo will perform adequately.
Different cartridges will have different effective ranges when it comes to deer hunting. Rounds like the 30-06 Springfield and 6.5 Creedmoor have different trajectories and terminal performance compared to the 308 Win, so it's important to understand your rifle, cartridge, and their capabilities before you ever set foot in the woods.
Frequently Asked Questions
There's a lot that goes into hunting, ammo, and your rifle. If we didn't cover all of your burning questions above, hang out with us for a few more minutes, and we'll answer your most frequently asked questions.
Is this .308 ammo good for bears too?
The .308 Winchester is an excellent cartridge for black bear and is more effective than handguns for bear defense. There are multiple rounds that are effective against black bear like the Barnes VOR-TX or Nosler's Accubond that are perfectly suited if you actively choose to pick a fight with Baloo.
Is there a difference between the .308 Norma Magnum and the .308 Winchester?
Yes, the .308 Norma Magnum uses a 338 Win Mag case necked down to fire a .30 caliber projectile. Essentially, the 308 Norma Magnum has a larger case and is more powerful than the .308 Winchester.
What does a boat tail do?
A boat tail helps a bullet reduce drag, giving it a flatter trajectory and making it less susceptible to wind deflection. This makes the bullet more aerodynamic and increases the ballistic coefficient.
Can I use the 5.56 NATO or .223 for deer hunting?
Many states prohibit the use of 5.56 NATO or 223 Remington for deer hunting. However, the bullets like a Federal Fusion or Trophy Bonded can be effective against deer when fired from a 223.
Can I buy .308 Winchester deer hunting ammo in bulk?
Absolutely! If you want to stock up, we have a lot of bulk .308 Winchester ammo available. Look for the Soft Point, PSP, or Winchester Power Point.
Back to the Best .308 Deer Hunting Ammo
Now that you have a better understanding of the .308 Winchester and the best deer-hunting ammo click HERE to go back to our favorite 308 deer hunting cartridges!
Best 308 Ammo for Deer Hunting: Bagging Big Bucks originally appeared on Ammo.com