OK, that's a new one on me too. Or maybe it was only where the lube was on the gun?
I'll explain. I bought a B&T GHM9 as a handgun and SBRed it so that I could shoot it in PCC division in USPSA Action Pistol competition. It's NOT supposed to jam! I mean over and above the fact that I don't want it to jam, this gun, this design, just doesn't jam or have malfunctions, but mine did. It drove me nuts. It wasn't mag' related, it didn't seem to be ammo related. I couldn't tie it to any one thing. Sometimes I would have a malfunction for no apparent reason and other times everything would be fine. Again no apparent reason for any of it. I tried various things some of which made it worse and some things appeared to make it a hair better, but it never stopped with the oddball malfunctions. What was happening was that once in awhile the spent brass wouldn't eject and would be found inside the breech area interfering with loading the fresh round.
OK, so I was pulling my hair out over the 2 seasons this was going on. But this gun just doesn't malfunction and I thought it must be something I was doing. So I kept trying this and that. Then it struck me that the cleaner/protectant/dry lube I was using might be the culprit. Early on I tried just using the dry lube on/in the carbine and that didn't work very good. It just made it worse. So I would use it as a cleaner then wipe or blow down the parts to mostly remove the product (ProLix), allow what little residue remained to dry on the bolt body and such, but this time I used solvent type brake cleaner on a Q-tip to remove it from the bolt face. I used wet lube to finish lubing the gun on the rails and such.
Today I had a match and had no malfunctions of any sort.
The gun is blowback and here's what I think was happening… The ProLix is used as a cleaner by soaking the firearm parts in a bath of it. After the ProLix bath dissolves the existing dry ProLix, the crud on top of the old dry ProLix (now wet) just wipes off. It is by far the best way I've ever found to clean a firearm. Then the gun is rinsed in the bath and the parts allowed to dry. Once dry the Prolix gives a surface that is as slick as grease. That "grease slick" surface was on the bolt face and was somehow screwing with the brass. There wasn't enough friction to control the brass and the brass was in some way getting lost inside the gun. The only thing I did differently for this match was that wiping of the bolt face with the brake cleaner to remove the ProLix before it dried.
So the gun is back to being what it should be, I found the problem and it boiled down to me which is what I thought it would come down to. These guns just don't malfunction, so that left something that I was doing.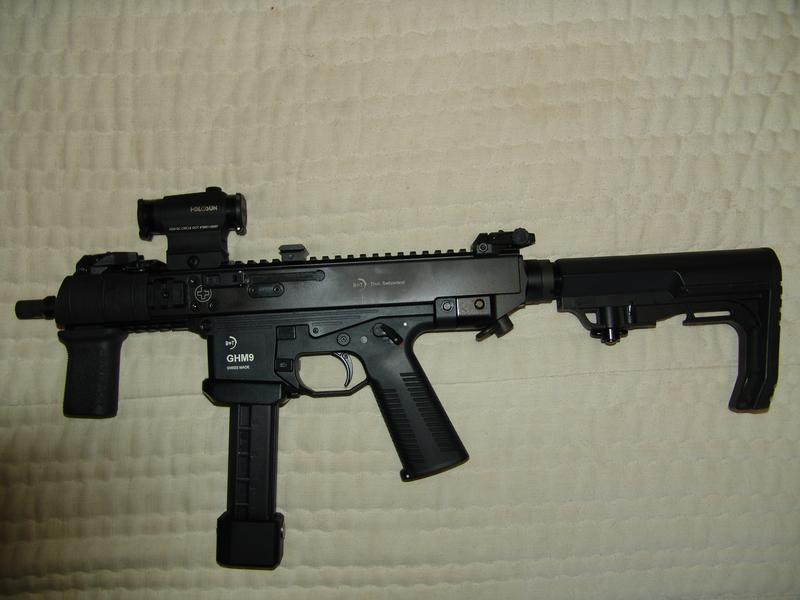 FWIW, I really like the ProLix. I use it on all of my handguns and never had a problem with it, even using it on my high round count comp' handguns. So I trusted it implicitly with the GHM9. It worked fine with my first PCC, just not this one.