If you've been shooting for very long, you've heard of Federal Ammunition. If you're a hunter, there's no doubt you've thought about purchasing Federal Non-Typical ammo, which is why you're reading this Federal Non-Typical review.
Is it worth buying, or should you look for another hunting ammo? In this article, we'll cover how this ammo performs in various calibers, the pros and cons, and the ballistics of these hunting rounds.
By then, you'll confidently know if this Federal Non-Typical ammo is right for you; however, you better read fast because this ammo will last only a bit longer!
Grab your favorite beverage, and let's get started!
Federal Non-Typical Ammo Overview
Federal Ammunition was founded by Charles L. Horn in 1922 in Anoka, Minnesota, and is now one of the leading American ammo manufacturers in the world. Federal continues to drive the ammunition industry forward with its commitment to developing and making specialized, high-quality ammo for all shooters.
This dedication also means Federal Ammo must adjust to the market, which is what they're doing by discontinuing the Federal Non-Typical line because compared to other products on the market, including other Federal ammo, the Non-Typical line was very typical ammo.
Federal Non-Typical rounds used a soft-point bullet, the go-to projectile for many hunters on a tight budget and lever-gun shooters. However, since the development of the Hornady LeveRevolution, soft-point projectiles are less accurate and effective than the FTX bullets used by Hornady.
I hunted with soft-point bullets for years; however, after witnessing the benefits of using FTX and similar bullets, I won't return.
That said, Federal Non-Typical Whitetail is still a great round for deer hunting (if you can find the grey and blue box in stock), as it is a hard-hitting bullet creating wound channels that allow hunters to harvest big game as ethically as possible.
Federal Non-Typical comes in several calibers, including 243 Win, 270 Win, 30-30 Win, 30-06 Springfield, 300 Win Mag, 308 Win, 350 Legend, 450 Bushmaster, and 6.5 Creedmoor. Most calibers also had a couple of choices for bullet weight.
While it's sad to see this line of ammo get discontinued, I know that Federal has other similar options like Federal Power-Shok and Federal Fusion, which will allow you to continue hunting with Federal Ammunition.
Our Federal Non-Typical Review
Federal Non-Typical Ammunition used a soft-point bullet style with Federal Primers and precision-drawn Federal Brass to lower costs for whitetail deer hunters without sacrificing too much performance.
While this bullet design has a few benefits, it also has some significant cons and needs to be updated, which is partly why Federal ammo has discontinued production.
I used soft-point bullets for years while deer hunting and rarely had any problems. I harvested my first and largest deer with a soft-point bullet design and will always have fond memories of them.
What Is It Best For?
Federal Non-Typical is best for deer hunting on a budget. It came in several caliber options, typically used for big game hunting, so hunters got to choose their favorite caliber.
Bolt-action and lever-action rifles are where this ammo performed best, with the fewest malfunctions.
Disadvantages
The first and most obvious disadvantage is that this ammo is now discontinued, so you'll be lucky to find some in stock.
Another drawback is that soft-point bullets, in general, are less accurate than polymer-tipped hollow-point bullets because they tend to tumble instead of spin.
Pros and Cons of Federal Non-Typical Ammo
I've created an easy-to-skim pros and cons table for those in a hurry, so you can quickly see how this ammo would have benefitted or hindered your hunting abilities.
Pros
Inexpensive
Made in the USA
It always goes bang when you pull the trigger
Trustworthy ammunition manufacturer
Cons
Less accurate than Federal Premium rounds
Prone to jams in semi-auto rifles
Discontinued
Federal Non-Typical Ammo Specifications
In this section of our article, you'll find the specs for each round in the Federal Non-Typical line-up.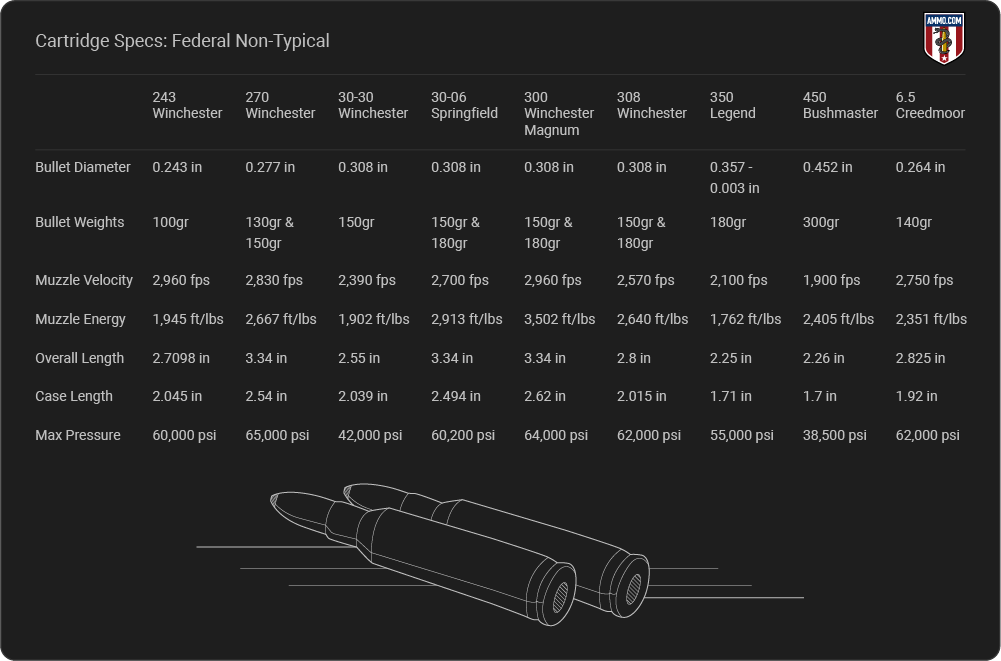 Ballistics of Federal Non-Typical Bullets
In the following sub-section, you'll discover the ballistics for the most common Federal Non-Typical calibers in an easy-to-understand table.
Federal Non-Typical 243 Ballistics Table
Federal Non-Typical 270 Ballistics Table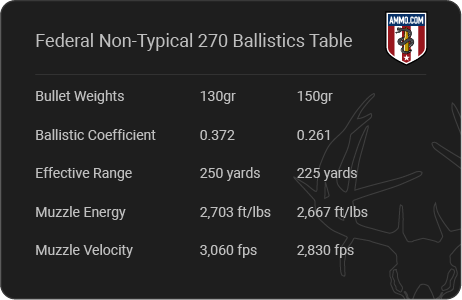 Federal Non-Typical 30–30 Ballistics Table
Federal Non-Typical 308 Ballistics Table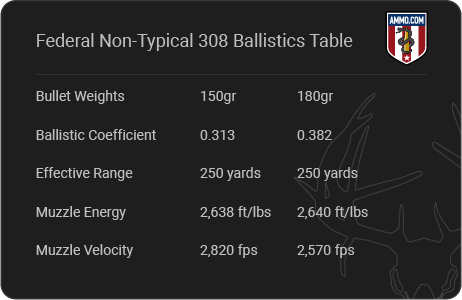 Parting Shots
After reading this Federal Non-Typical review, you know whether you missed out on an opportunity to shoot a very typical hunting ammo or you now appreciate Federal Power-Shok even more.
Thanks for reading, and remember to pick up all your ammo at Ammo.com, where we have excellent customer service and fast shipping!
Frequently Asked Questions
We've gathered some of the most commonly asked questions about Federal Non-Typical Ammo and answered them below.
Is the Federal Non-typical worth buying?
Yes, Federal Non-Typical is worth buying. However, you better hurry because it's been discontinued.
What is Federal ammo?
Federal ammo is an American ammunition manufacturer.
What is Federal non-typical?
Federal Non-Typical is a discontinued big game hunting ammunition.
Federal Non-Typical Review: The Hunt for Good Ammo originally appeared on Ammo.com