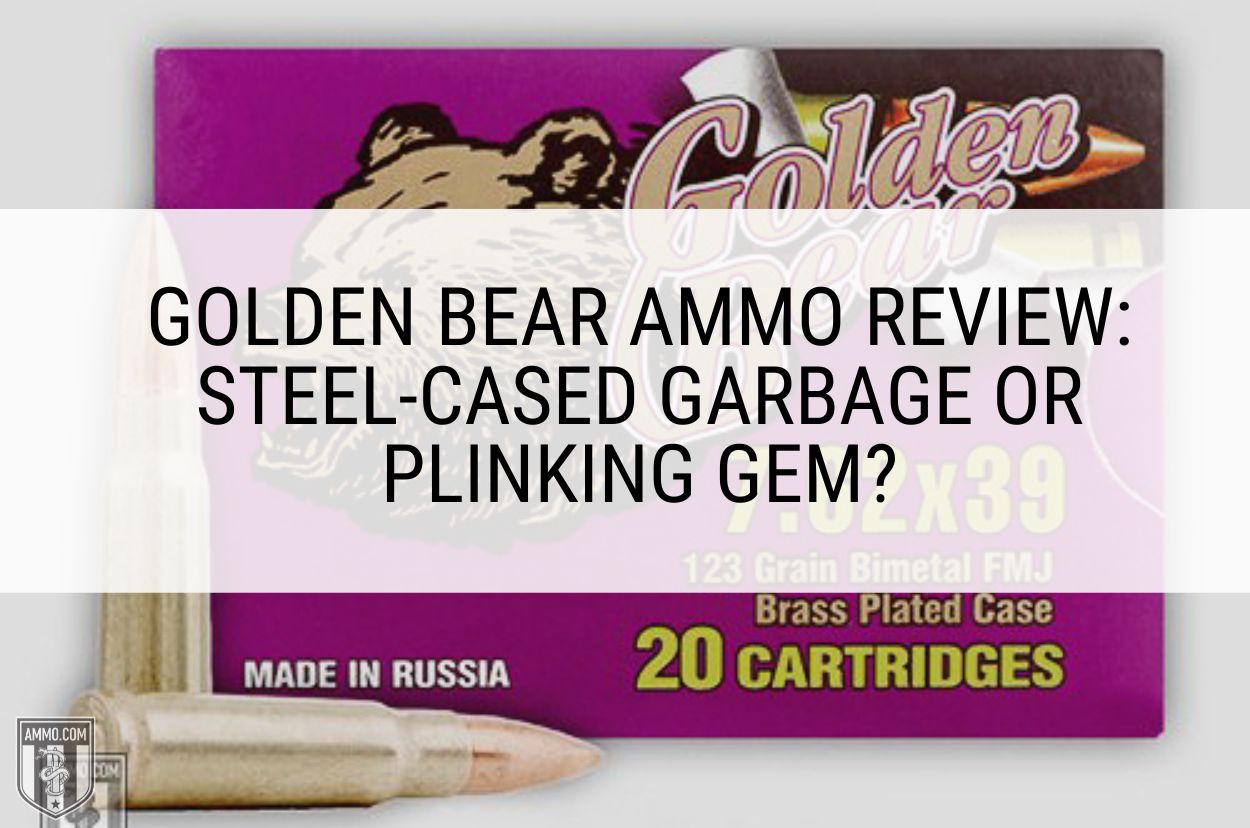 If you're fortunate enough to find a box of Golden Bear in stock, should you buy it? Well, of course you should! Golden Bear ammo is reasonably efficient, relatively affordable, and fairly reliable. The caveat to this, it's becoming increasingly difficult to find!
Naturally, we like ammo. We buy up all sorts of the stuff for varying calibers and in different styles and test it. We see what we like, what chambers well, and what's the best bang for your buck. And that last part is where Golden Bear comes into play.
It's ammo at a great price that works well with most firearms, and depending on the shot you need, has excellent results.
The first time I ever saw Golden Bear's iconic purple box was many years ago at the range with my Dad's Taurus Judge. Of course, it was also the first time I'd ever seen a handgun that fired shotgun shells (which is actually a really cool gun if you don't have one).
However, many shooters I've talked to recently haven't heard of the brand, and know nothing about it. So, I decided to write this review for anyone who's curious about Golden Bear ammunition.
If you're ready to dive into what's available now, click HERE to check out our selection. Otherwise, keep reading for our tried and trustworthy review.
Is Golden Bear Ammo Good?
The Russian Barnaul company makes Brown Bear, Silver Bear, and Golden Bear ammo. The company got really creative naming its hunting ammunition considering the Brown Bear line is brown (what you'd expect from traditional Russian mil-spec ammo), the Silver Bear is silver (has a silver zinc coating on a steel case), and the top tier Golden Bear (which is named after it's golden appearance due to a brass-plated steel case).
So, let's start with the cartridge casing. Here in the States, we love a good brass case because it feeds really well and it's typically reloadable (the Golden Bear isn't, but we'll talk about that more below). Traditionally brass-cased ammo is a bit pricier than steel cases, but Golden Bear tries to skirt this line by using a brass electro-plated steel case. Essentially, this means you will get some of the benefits of a brass case without the brass price.
Next, the Golden Bear ammo line is perfect for hunting. Personally, when I'm shopping for ammo, I want one I can take from the range to the hunting club without breaking the bank. So, that's another benefit of Golden Bear ammo.
You can get Golden Bear ammo in popular rifle cartridges and for .410 gauge shotguns (or the Judge, that's a cool gun if you don't already have one). The rifle cartridges come in a variety of styles such as FMJs, soft points, and hollow points (soft point bullets are a bit better for medium to big game hunting than hollow points, but we really like polymer-tipped bullets too).
Overall, Golden Bear, while not as dazzling as some American-made ammo, is one that I keep on hand. It's great for plinking and hunting, and it's inexpensive.
Golden Bear Ammo: Pros & Cons
There are definitely a lot of good aspects to using Golden Bear ammo, but we aren't just going to give you all the rose petals and leave out the weeds. I like Golden Bear ammo, it's never done me wrong or let me down, but there are a few things I wish were a bit better.
Let's take a look at the pros and cons of Golden Bear ammunition:
Pros
It's affordable
The brass-plated casing means it feeds well and it's going to last for a long time
You can take it hunting, plinking, or use it for target practice
Cons
They use Berdan primers which are extremely difficult to reload and require specialized tools
Steel-cases can damage reloading dies, even when brass plated
Calibers selection is limited (see the next section for reference)
It's hard to find (seriously, at the time of writing, it's easier to find hen's teeth).
Now you see why I said, "If you see a box, buy it!" It's great ammo, but you can't reload it, it isn't available in many calibers, and when you find some, it won't be available for long.
Note: If you need to buy some low-cost bulk ammo right now, click HERE to view our selection of what's available.
Which Calibers are Available in Golden Bear Ammo?
Golden Bear offers ammo in only a select number of calibers. Here's what you can get (when it's available):
30-06 Springfield
.223 Remington
7.62X39
.410 Bore
Golden Bear Ammo Performance
As you can tell, we really like talking about ammo. But learning the history, fun facts, and my opinion may not convince you. Fortunately, we have some data to back up what we're saying.
While it isn't as American as the Winchester ammo or Remington ammo, we have a great deal of respect for cartridges that stand the test of time from other regions too.
Golden Bear 7.62X39
One of my favorite plinking rifles is the SKS. Chambered in 7.62X39, I've had the opportunity to take a box of Golden Bear (123-grain Hollow-point bullets) out to the range. While I wouldn't necessarily use it for deer hunting, some do. The rounds were incredibly accurate (as one would expect with an SKS), but we don't get the same range and expansion from the caliber as we do with other, more appropriate hunting rounds.
I had no feeding issues thanks to the brass-plated steel casing, and the 2,645 fps muzzle velocity was more than enough to reliably cycle the SKS action. I experienced more than 12" of bullet drop at 300 yards.
Golden Bear .410 Gauge
Golden Bear offers both buckshot and slugs for the .410. Going to the range with my Dad's Taurus Judge (as an adult this time) was a lot of fun with the 3" #4 shot Golden Bear shotshells. I was impressed with the tight groupings and quality of the low-cost shotshells.
The Golden Bear shotshells have a 1,017 fps muzzle velocity and contain 5 #4 buckshot pellets, so it's got some serious stopping power. While I enjoyed playing with it at the range, I'd actually trust the Golden Bear shotshells as much as the .45 Colt (not the .45 ACP - for our newbie readers) for home defense.
Golden Bear 30-06 Springfield FMJ 145 Grain
Another highlight of this project was the Golden Bear 30-06 FMJ (bi-metal) rifle ammo. Because I was working with 145-grain Full Metal Jacket rounds (the bullet weight isn't the issue I have with hunting with this round, it won't expand on impact), I already knew this wasn't something I'd take into the woods. But there's a pleasant sentiment with mil-spec ammo and that's exactly what the 145-grain Golden Bear FMJs reminded me of.
The muzzle velocity was a bit on the slower side of the 30-06 spectrum at 2,445 fps, but we aren't looking for perfection here. Ultimately, it was a great round for target practice, performed well, and I didn't have to fork over a ton of cash to spend hours at the range.
Unfortunately for me, the Golden Bear for .223 Remington are in high demand so I wasn't able to get those out to the range (they're definitely on my wish list). But based on what I've seen of the other options, I'd absolutely pick up a few boxes when they're in stock.
FAQs
Can I reload the Golden Bear ammo?
No. Golden Bear ammunition is Berdan primed and uses a steel case, therefore they aren't reloadable. However, Golden Bear ammunition is incredibly affordable and most shooters view it as one-time use ammo.
Where is Golden Bear Ammo Made?
Golden Bear's manufacturing plant (Barnaul Cartridge plant) is located in St. Petersburg, Russia.
Is Golden Bear Ammo corrosive?
No, Golden Bear uses new-production non-corrosive Berdan primers that will not coat your barrels and receivers with rust-inducing corrosive salts.
Does Golden Bear make rimfire ammo?
No, at the time of writing Golden Bear only offers centerfire shotgun and rifle ammo.
What are bimetal bullets?
Bimetal bullets are projectiles comprised of a soft lead core surrounded by a steel jacket that is then enclosed in a 100% copper jacket coating. Bimetal bullets are banned from some indoor ranges due to their ability to penetrate deeper than traditional full metal jacket (FMJ) bullets.
Parting Shots
I've never been ammo bougie per se, but I definitely enjoy a high-quality and expertly crafted cartridge. Golden Bear is quite impressive considering the low cost per round. It seems the only drawback at the time of writing is that it has low accessibility.
However, if you want to add our stock to your browser's bookmarks, it's definitely worth grabbing the rounds when they're available.
Golden Bear Ammo Review: Steel-Cased Garbage or Plinking Gem? originally appeared on Ammo.com