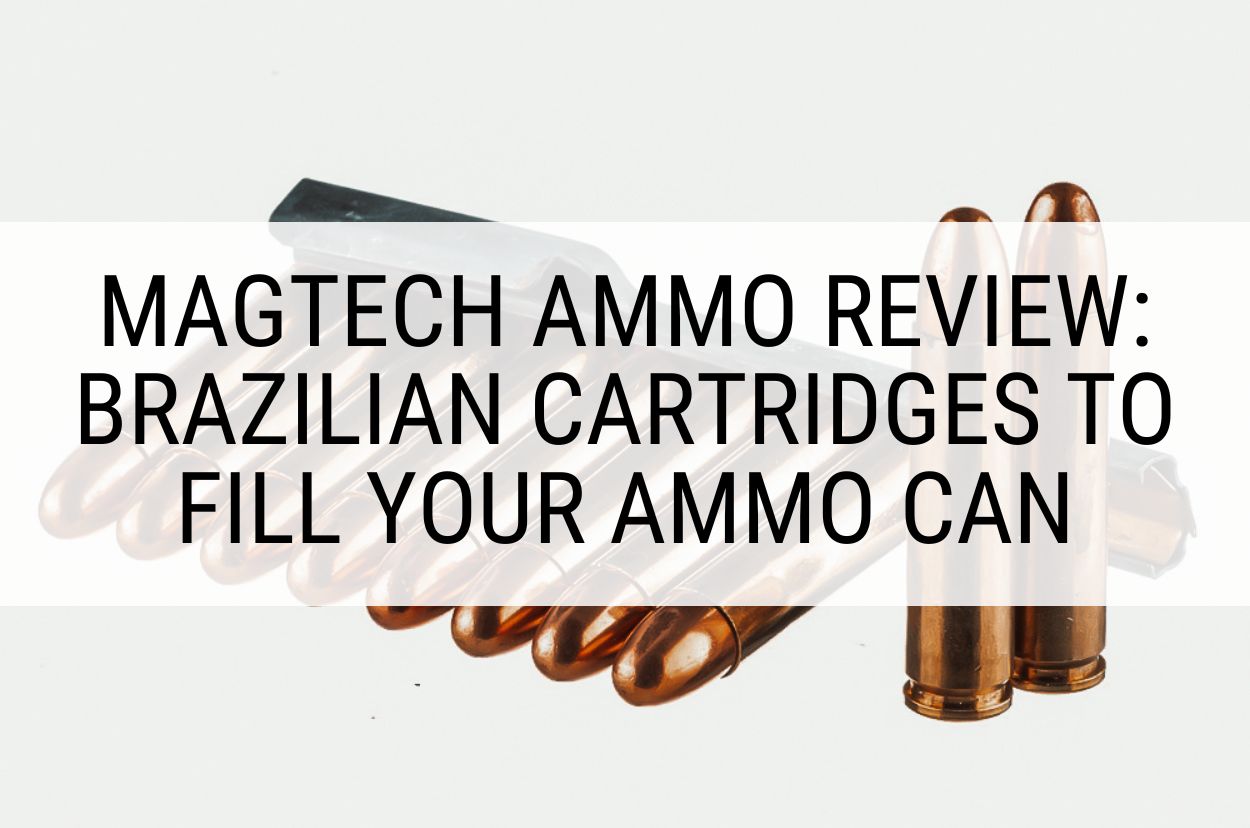 When you're shopping for quality ammo at a good price for target practice or plinking, names like Winchester White Box, PMC, Fiocchi, and Remington are all popular choices. However, money can sometimes be tight and with ammo budgets shrinking seemingly every week, you not only need good ammo, but you need a good price too!
While all those other manufacturers are excellent options, have you considered Magtech Ammunition?
Magtech has been producing high-quality self-defense and range ammo since 1990 and currently exports to over 100 countries worldwide. Yet many shooters don't consider them when they are making a bulk ammo purchase to fill up their ammo cans before shooting season starts.
In this Magtech Ammo review, we will take a hard look at this Brazilian ammo manufacturer and explain why you shouldn't be concerned about loading your mags full of Magtech rifle or pistol ammo.
Is Magtech Ammo Good?
Magtech Ammunition produces quality ammo at a good price for target shooting, plinking, and self-defense. Strict quality controls ensure that Magtech ammo is consistent and reliable, ensuring you don't hear a 'click' when you pull the trigger.
Pros and Cons?
As much as we love ammo, we understand that no manufacturer is perfect. Here are some of the pros and cons of Magtech ammunition you should be aware of.
Pros
Reliable
Great price
Brass-cased ammo
FMJ and JHP handgun ammunition
Very consistent muzzle velocity
Cons
Low accessibility during shortages
A little dirty
Which Calibers are Available?
Magtech offers a wide variety of rimfire, centerfire rifle, and handgun ammunition in different chamberings, here are some of their most popular factory loads:
Magtech Ammo History and Important Information
The Magtech Ammunition brand was established in 1990 and has been producing extremely high-quality ammunition ever since. Located in Sao Paulo, Brazil, Magtech is wholly owned by one of the largest ammunition manufactures in the world, the Companhia Brasileira de Cartuchos (CBC) Global Ammunition.
CBC owns several other ammo manufacturers, namely MEN in Germany, and Sellier & Bellot in the Czech Republic. The CBC ammo plant in Brazil is a state-of-the-art facility that utilizes vertical integration, meaning that all the components for the ammunition are made on-site.
Magtech has their own powder, Boxer primers, brass cases, and projectiles that they manufacture for their own ammo and sell for reloading. This means that they can maintain strict quality control measures on all the ammunition that is made in the plant.
The result is extremely reliable and accurate handgun and rifle ammo that many shooters swear by.
CBC Global Ammunition has an interesting story as well. Founded in 1926 by two Italian immigrants in Brazil with a passion for reloading, the pair started making hunting ammo in a small shed in Sao Paulo.
Their notoriety grew quickly and their operations expanded into large scale production.
In the 1932 Brazilian Civil War, CBC was one of the major providers of ammunition to the military.
Then, as WWII began to expand in Europe, the Brazilian military contracted CBC to manufacture ammo for a potential entry into the war. This led to the purchase of a large 440 acre plot of land that later became the headquarters for the company.
In 1966, CBC began exporting arms and ammunition internationally, with the United States being the primary importer of single-shot rifles from the company. Then in 1990, CBC established the Magtech Ammunition brand, acquired MEN in Germany, and Sellier & Bellot in the Czech Republic.
Later in 2015, CBC acquired the majority of voting shares in the Brazilian firearms manufacturer, Taurus. This solidified the company as one of the largest firearms and ammunition exporters in the world, trailing only Vista Outdoors and Winchester.
CBC ammunition is currently used by United Nations peacekeepers, NATO armed forces, and law enforcement agencies around the world.
Where is Magtech ammo made?
Magtech Ammunition is manufactured in three CBC ammo plants in Brazil with the largest plant located in Sao Paulo. The CBC Ammunition group is the sole distributor of Magtech ammo in the United States and their headquarters is located near Minneapolis, Minnesota.
FAQ's
What year was Magtech founded?
The Magtech brand was founded in 1990. However, Magtech is a member of the CBC Global Ammunition Group which was founded in 1926.
What is Magtech ammo made of?
Magtech uses vertical integration, which means that they manufacture every part of the cartridge. Magtech produces high-quality brass cases, primers, projectiles, and powders for all of their loaded ammunition.
Is Magtech clean ammo?
Some shooters report Magtech ammo as being dirty. However, in my experience it is no more dirty than Winchester, Remington, or Fiocchi.
Is Magtech ammo reliable?
Yes, Magtech is known for their reliability around the globe as they export ammunition to over 100 different countries, including being a supplier of military grade ammo for the NATO alliance and law enforcement agencies across the globe.
Is Magtech ammo accurate?
Magtech ammo is accurate enough for target practice and plinking. It is not match-grade but it is extremely reliable.
Is Magtech ammo corrosive?
No, Magtech ammo is loaded with non-corrosive Boxer primers.
What primers does Magtech Ammunition use?
Magtech manufactures their own brand of non-corrosive Boxer primers for all their centerfire ammunition. If you're into reloading, their primers are also available for purchase to use in your own handloads.
Are Magtech cases good for reloading?
Yes! Magtech manufactures high-quality brass cases that are Boxer primed, which are perfect for reloading.
Which Magtech 9mm ammo works best in a Glock?
My personal favorite Magtech pistol ammo for my Glock 17 is their 9mm Luger 115 grain full metal jacket (FMJ). I've found this load to be extremely reliable (hardly any misfires or jams) and the 115 grain FMJ is perfect for target shooting. For self-defense I'd go with the Magtech 124 gr Guardian Gold jacketed hollow point (JHP).
Is Magtech 45 ACP ammo safe for a 1911?
Yes, Magtech handgun ammo is a great choice for your Colt 1911 or any other brand for that matter. Their 230 grain full metal jacket ammo has always performed well in my Kimber 1911 and I have nothing but good things to say about it. It's 837 fps of muzzle velocity is perfect for target practice and plinking with its low recoil.
Magtech Ammo Review: Brazilian Cartridges to Fill Your Ammo Can originally appeared on Ammo.com