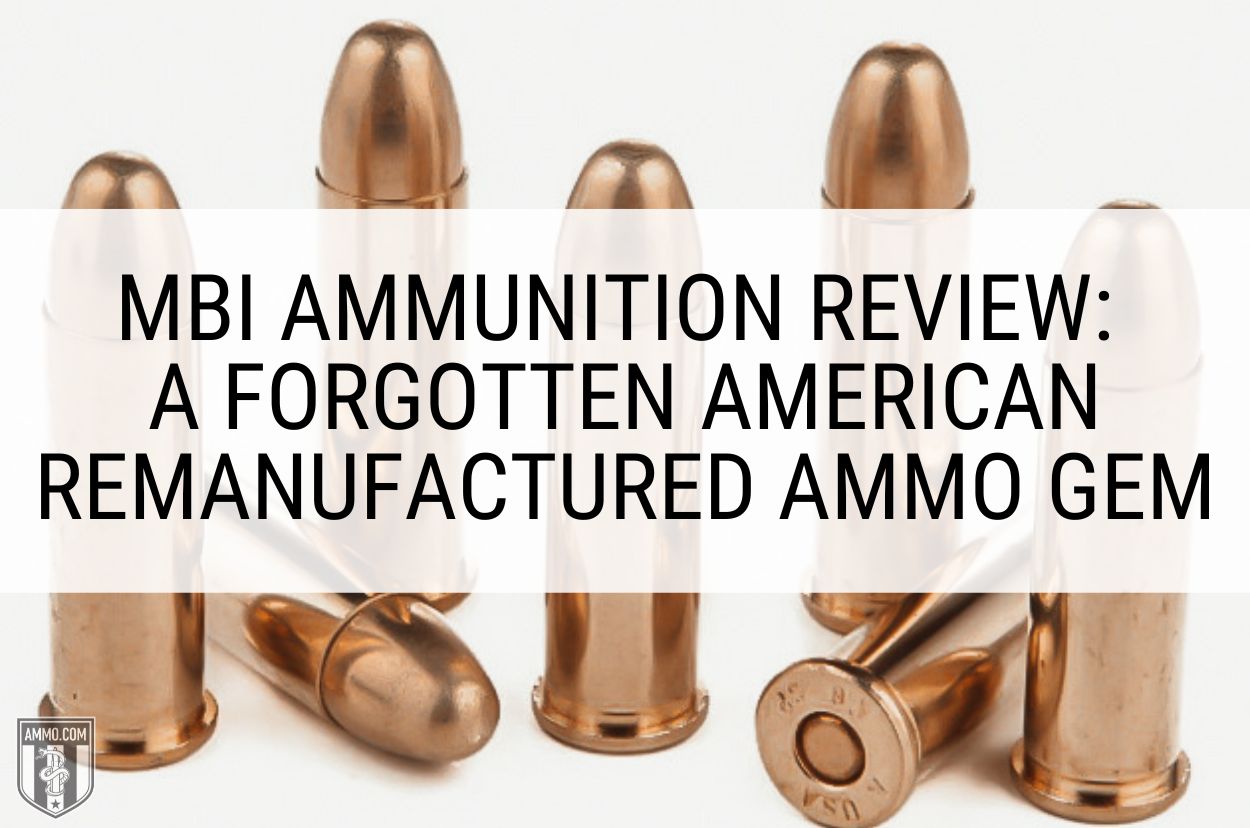 No matter what your favorite handgun might be, whether it be a Ruger America, Sig Sauer P320, or Glock 19, finding cheap bulk ammo to keep your magazines full is paramount. Many shooters will opt to get their full metal jacket ammo from manufacturers like Blazer Brass, Winchester, Remington, or Tula, but if you haven't considered MBI then you really should.
Manufactured right here in the good, old US of A, Military Ballistic Industries (MBI) offers high-quality remanufactured ammo for sale at good prices and fast shipping. Although some shooters are wary of using remanufactured ammunition, MBI stands above the rest in their dedication to quality, consistent muzzle velocity (FPS), and muzzle energy.
The result is an excellent round that is perfect for target practice, plinking, and general range work that is available for a fraction of the cost of factory new ammo.
But is MBI ammunition right for you and your prized handguns? In this ammo review, we will take an in depth look at Military Ballistic Industries and help you determine if MBI ammunition is right for you.
Is MBI Ammo Good?
MBI ammo is good quality at a good price. Both the company's new cartridges and its remanufactured rounds are safe, reliable, and consistent and use top-of-the-line components. Between MBI's reman cartridges and its ability to cut costs through packaging, these rounds are extremely affordable, especially for high-volume shooters.
Pros and Cons
As much as we love ammo, we understand that no manufacturer is perfect. Here are some of the pros and cons of MBI ammo you should be aware of.
Pros
Inexpensive
Great for target practice and plinking
TMJ bullets perfect for indoor ranges
High-quality primers, powders, and bullets
Cons
Some handguns and rifles are picky about reloaded ammo
Reman ammo will occasionally experience jams or split cases
Which Military Ballistic Industries Calibers are Available?
MBI offers a small selection of centerfire rifle and handgun ammo in different calibers, here are some of their most popular factory loads:
MBI Ammo History and Important Information
MBI Ammunition is an American ammo remanufacturing company. They take used brass and remanufacture it back to industry specs, essentially this is industrial scale reloading.
Some shooters consider remanufactured ammunition to be inferior to factory new ammo, and this definitely can be the case. If you've ever bought gun show reloaded ammo, you'll know that not all handloaders are created equal.
However, when it comes to MBI reman ammo, you have very little to worry about as this company utilizes high quality components and stringent quality controls to ensure their ammo can match any other factory new ammunition on the market.
What sets MBI apart from other remanufacturing companies is their component selection and QC controls. All MBI cases are reloaded with either CCI or Winchester primers and Hodgdon powders. If you're into reloading, you know the quality of these products.
When it comes to bullet selection, MBI does everything they can to keep prices low while giving you the best accuracy possible. For handgun rounds, MBI typically loads their cartridges with Berry's plated bullets. These total metal jacket (TMJ) bullets reduce lead exposure when firing on indoor ranges and their uniform jacket aids in shot-to-shot consistency and accuracy. For 223 Remington ammo, MBI uses standard 55 grain FMJ (full metal jacket) bullets that are inexpensive and easy to find.
To continue keeping costs low, MBI utilizes heavy-duty plastic bags to package all their ammo. Although some shooters feel this is tacky, it reduces the company's material costs which are then passed down to you, the shooter.
This is why MBI ammo is so inexpensive, as the company does everything they can to ensure you receive a high-quality product at a considerably lower price point than any other factory-new ammo on the market today.
If you're looking for bulk ammo to stock up on for your favorite handgun, like a Springfield Armory XD or S&W M&P, it's hard to overlook MBI as you can put away a lot of rounds and not break the bank. And as for my AR-15 in 5.56 NATO, I always do my best to ensure I've got at least one ammo can full of MBI 223 Rem ammo squirreled away in my ammo stockpiles!
Although some shooters have reported issues with MBI ammo like split cases or underloaded rounds, all the ammo I have purchased from them has been flawless. It might not be match-grade, but it's great for plinking and target practice to keep my marksmanship skills high and my overall ammo costs low.
Over the past few years, MBI has become harder and harder to come by and we currently do not have any MBI ammo for sale at the time of writing. But I can assure you that when we do, you can expect lightning fast shipping when you put in your bulk ammo order here at Ammo.com.
Where is Military Ballistic Industries ammo made?
Military Ballistics Industries ammo, better known as MBI, is made in the United States. Focusing on remanufactured cartridges, MBI makes most of the popular handgun cartridges on the market, including the 9mm, .38 Special, .40 S&W, and .45 ACP. The company has also started manufacturing .223 Rem.
FAQ's
Why is MBI ammo cheap?
While manufactured from quality materials, MBI ammo is cheaper than much of the competition. There are various reasons for this, but two stand out. First, MBI provides a high-quality remanufactured cartridge that is reliable and consistent. Reman ammo reuses brass casings, which are the most expensive aspect of the round. Second, MBI doesn't box its ammo, instead packaging the cartridges in thick plastic bags to create less waste and keep the cost low.
What bullets does MBI use?
MBI uses Berry's plated bullets for all their handgun loads and standard 55 grain FMJ bullets for their 223 Rem loads.
Is MBI ammo accurate?
MBI produces high-quality remanufactured ammo. In my experience, MBI ammo has relatively consistent muzzle velocity and provides acceptable accuracy for plinking and target shooting. I would rate this ammo as on par with PMC or Winchester White Box for accuracy but not as accurate as match-grade ammo from Hornady.
Is MBI ammo good for hunting?
MBI does not have any rounds that are appropriate for big game hunting. However, their 223 Remington loads would be excellent for varmint hunting and pest control.
What is remanufactured ammunition?
Remanufactured ammo or "reman" are brass cases that have been fired that are reformed and loaded with new components. Remanufactured ammunition is essentially reloading on a larger scale.
Is MBI ammo corrosive?
No, MBI ammo is loaded with non-corrosive Boxer primers.
Does law enforcement use MBI ammo?
No, law enforcement agencies do not currently use MBI ammo for qualifications or duty carry.
What primers does MBI Ammunition use?
MBI uses Winchester and CCI primers exclusively.
Are MBI cases good for reloading?
Yes! MBI uses brass cases that are Boxer primed, which are perfect for reloading.
Which MBI 9mm ammo works best in a Glock 17?
My preference would be the MBI 124 gr FMJ 9mm ammo for taking my Glock 17 out to the range. This ammo has always served me well for plinking and target practice when it was in stock.
Can I use MBI 45 ACP ammo in my S&W M&P 45?
Yes, their 230 grain plated TMJ 45 ACP handgun ammo has always worked well in my S&W M&P45 and I've had no problems with jams or FTF malfunctions.
MBI Ammunition Review: A Forgotten American Remanufactured Ammo Gem originally appeared on Ammo.com