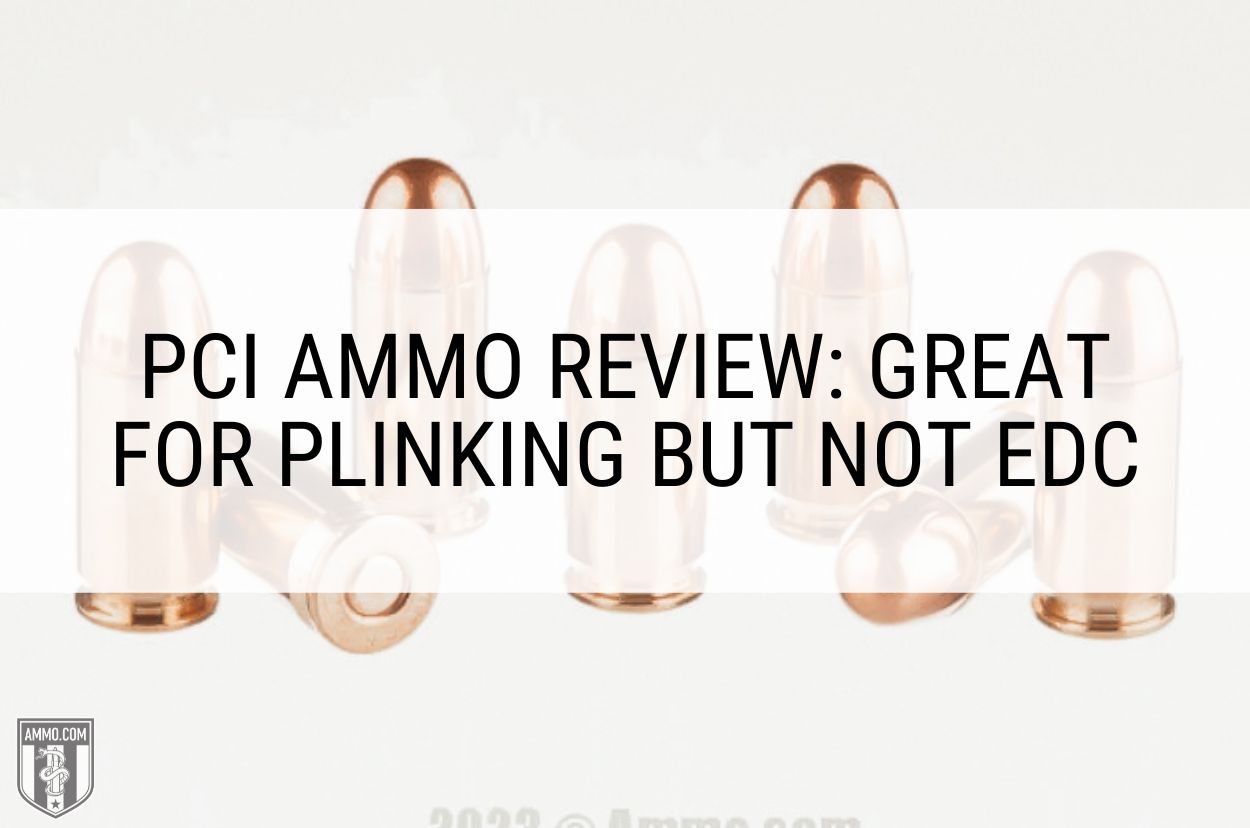 If you've never heard of PCI ammo, you aren't alone. Precision Cartridge Inc (PCI) is a small family-owned business that remanufactures ammunition with a variety of bullets including frangible and total copper jacket rounds. PCI reloads spent brass casings and helps law enforcement agencies obtain low-cost reloaded cartridges from Indiana to Mississippi.
If you've come across PCI ammo, you're probably wondering if it's any good. Well, the answer to that question is, "It depends."
First, it's important to keep in mind that PCI ammo is either reloaded or specifically manufactured for the range. The company offers frangible and TCJs for those who spend a lot of time at the range and will reload your fired brass if you'll ship it to them.
If you're looking for a low-cost alternative to more expensive ammunition, PCI ammo may work for you.
We'll break down the benefits and drawbacks in this review. If you're looking to order low-cost ammo right now, you can click HERE. But if you'd like to learn more about what Precision Cartridge Inc. offers, keep reading.
Is PCI a Good Brand of Ammo?
Let's start with your most pressing question, "Is PCI a good brand of ammo?" As mentioned above, PCI ammo is remanufactured. The company takes components from multiple manufacturers, mashes them together, and creates commercially reloaded cartridges.
Of course, that doesn't necessarily mean you should keep scrolling to the next best ammo manufacturer either. PCI's ammo is often used in LEO testing and training. The company offers TCJ (Total Copper Jacket) ammo at decent prices that is similar to Speer Lawman total metal jacket (TMJ) ammo.
TCJ ammo helps reduce lead exposure, thereby, it's safer for shooters at indoor ranges. Of course, the company also offers frangible rounds that disintegrate on impact, another bonus for those spending a lot of time at the range or on live-fire exercises in a shoot house.
The company produces JHP (Jacketed Hollow Point) and FMJ (Full Metal Jacket) rounds. So, there's a lot of opportunity to find a low-cost cartridge to fit your needs.
However, I personally wouldn't rely on it for my everyday carry cartridge. Taking it to the range versus trusting it to protect my life or family's are two very different applications.
One of the chief complaints about PCI ammo is that the rounds jam easily (which is possibly due to improperly reloaded shell casings). Although, it's important to note that different rounds react differently in various firearms. For example, you could have one load that runs flawlessly in your Ruger Mini-14, but the same load jams constantly in your Bushmaster.
Naturally, this is a buyer's beware ammunition because it is remanufactured. For some, the cost and functionality of reloaded rounds is a perfectly acceptable trade for the possible downsides.
Similar Available Calibers
Now, we'd assume you're on the hunt for some high-quality, low-cost, and available ammo right now. While you may not be able to get your hands on some PCI reloads, you don't have to sacrifice price for quality. No matter your caliber or bullet type preference, PCI offers these rounds and you can click the links to see what's in stock now:
Pros & Cons
Contrary to what you may see in forums, not everything about PCI ammo is a con. For example, you may buy a box of 155-grain .45 ACP bullets and have one or two jam in the chamber. While that's no fun, it isn't going to ruin your entire day either.
If you're like me, the fact that PCI is headquartered in Indiana, it's a family-owned business, and it supplies LEOs with necessary training ammunition, makes you feel good about yourself contributing a few dollars for some of their ammo. However, if you don't want to take the risk, there are plenty of other affordable ammunition options available (Fiocchi is an excellent low-cost ammo brand).
Lastly, PCI ammo is more practical for the shooting range than your daily carry or hunting ammo.
Getting to Know PCI Ammo
While we wouldn't necessarily carry PCI's remanufactured ammunition for self-defense, we have a lot of respect for the company and its rich history. PCI's founder Dennis G. Fossey is a retired Indiana police officer with an apparent passion for reloading ammunition. While some of us sit in our workshops reloading rounds, the founder made the hobby into a business.
PCI has been manufacturing reloaded frangible and TCJs since 1986. The company uses the same Camdex machines as large manufacturers and inspects every primer and casing for quality. If you're a team blue reloading hobbyist, you may be happy to know that PCI ammo uses the Dillon RL-1000 machine as well.
There are many years of reloading and LEO expertise behind this company. But don't expect to get Hornady quality cartridges. Of course, you aren't going to pay Hornady level prices either, so it's all about balance.
FAQs
We think ammo is an interesting subject, there's always something new to learn. If you have more questions about PCI ammo, keep reading this section.
What is the difference between PCI and PMC ammo?
While PCI and PMC ammo have similar names, the ammo produced is vastly different. First, PCI is an American company and PMC ammo is made in South Korea. Next, PMC ammunition produces brand news cartridges using new brass cases while PCI produces remanufactured ammunition using fired brass cases and components from multiple manufacturers.
Is PCI good self-defense ammo?
PCI offers ammo for everything from the 9mm Luger to the .357 Magnum and more. While we typically recommend jacketed hollow points for self-defense, we can't be one-hundred percent certain you won't run into a problem when chambering a PCI cartridge.
If you are looking for good self-defense ammo for your handgun, you can check out Hornady's JHP and +P ammo here (the XTP is also great). While they're slightly more costly than PCI's reloaded rounds, they're much more reliable for self-defense scenarios.
Does PCI use new brass?
Not regularly. PCI uses machinery to resize spent casings and restore them to their factory dimensions before reloading them.
Does PCI sell bulk ammo?
The minimum order size for PCI ammo is 1,000 rounds. When you find the ammo you like, it's a good idea to buy it in bulk when possible. You can check out our broad selection of bulk ammo HERE for what's available now.
What is a frangible bullet?
Frangible ammo is typically non-toxic and consists of a copper alloy composite. It's designed to fragment on impact meaning it's perfect for shooting steel targets, at indoor shooting ranges, and even enclosed spaces like aircrafts (where you wouldn't want a bullet to penetrate the hull).
Does PCI make 9mm TCJs?
Absolutely! The company makes many common calibers in both TCJs and frangible bullets, including 9mm ammo.
Are rimfire and centerfire rounds reloadable?
Yes. Centerfire cases are reloaded all the time, but contrary to popular belief, it is possible to reload rimfire rounds. Most handloaders do not reload rimfire ammo since it isn't cost-effective. If you're inquiring whether PCI can reload your specific caliber and bullet, call the company before you checkout.
Can I use PCI ammo for hunting?
We are pretty particular about our hunting and personal defense ammo, so ultimately, we're going with no. If you need a good hunting cartridge, check out Nosler, Hornady, Winchester, or Federal (we currently have the Nosler Ballistic tips in stock). But do keep in mind when picking hunting ammo, polymer tipped and soft point ammo are some of the best options for hunting big game.
Does PCI offer 5.56 NATO, 300 Blackout, or .50 Beowulf?
PCI does offer 5.56 NATO rounds but 300 AAC Blackout and 50 Beowulf are not currently available.
Parting Shots
Not all ammo is created equal. Therefore, it's no surprise that PCI cartridges don't stack up to other big-name manufacturers. However, that doesn't mean that you should avoid it completely.
While you won't get polymer-tipped rounds perfect for hunting with your brand-new carbine rifle, you may see some benefits if you spend a lot of time qualifying at the range.
PCI Ammo Review: Great for Plinking but Not EDC originally appeared on Ammo.com