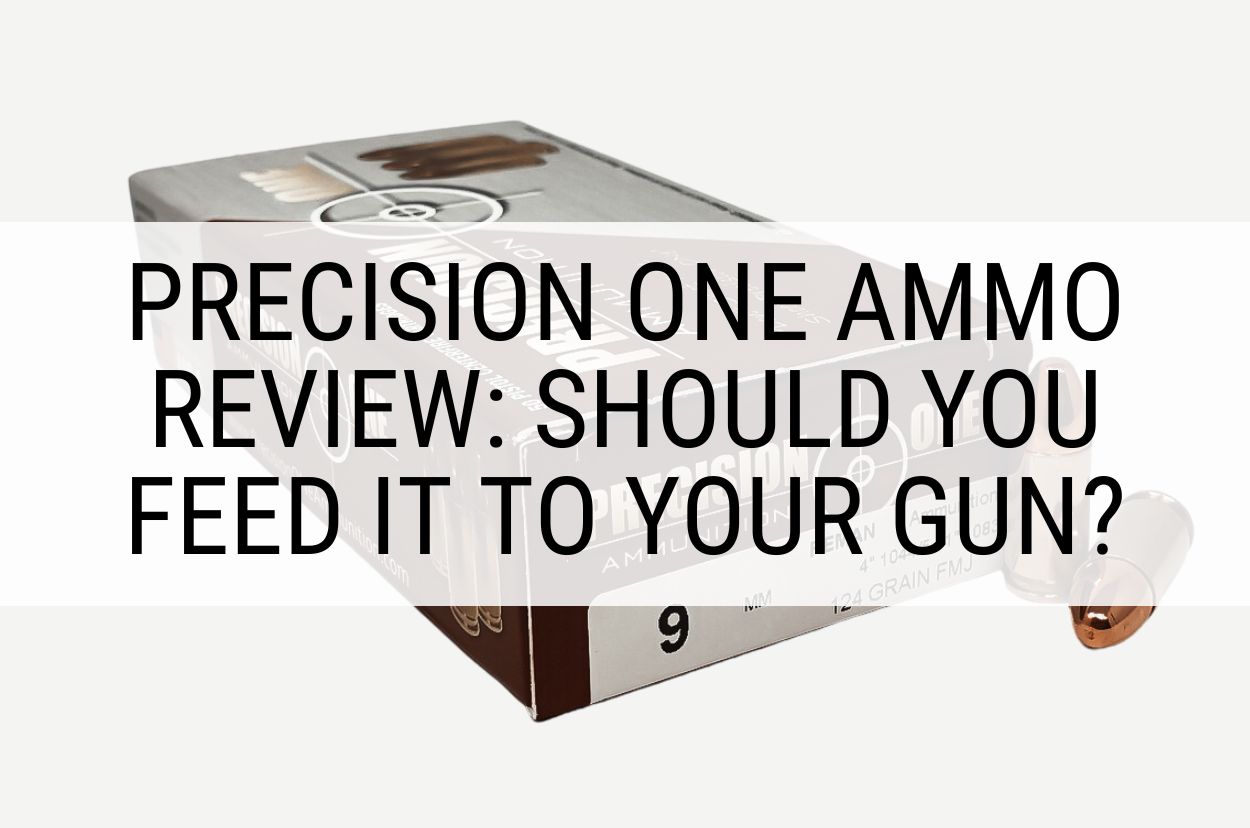 Truthfully, I was in your shoes a few short months ago, wondering if Precision One ammo was worth investing in or if I should find another brand to stock up on.
So I dove in, just like you, and started researching. The following Precision One ammo review is the results I came to based on many hours of research and years of firearms and ammunition experience.
So grab your favorite beverage, and find out if Precision One ammunition is worth feeding your treasured Glock handgun or Winchester rifle.
Is Precision One a Good Brand For Ammo?
Yes, Precision One is a good brand for ammo.
As you continue reading this Precision One ammunition review, you'll see why I quickly came to this conclusion.
Precision One Ammunition manufactures new and remanufactured ammo (reman). Their goal is to produce a consistent and accurate round for their customers.
They only use high-quality brass, powder, primer, and bullets for optimum accuracy, functionality, and tighter tolerances.
Precision One stands behind its products. If there is a manufacturer's defect, they warranty their products for up to one year. It's really nice to see a company genuinely willing to put their money where their mouth is.
After trying for hours to find something negative about the ammo or company, all I managed to find was that it wasn't as good as Hornady in some ammo tests, even though some rounds use the Hornady XTP JHP. This doesn't surprise me much since I already consider Hornady Ammo some of the best on the market.
Precision One ammo shoots reliably and accurately across multiple calibers, so I wouldn't hesitate to buy it. Though a few other shooters were saying it was overpriced compared to other brands with similar ballistics, this ammo is priced very well, as far as I'm concerned.
Alright, so we know that Precision One Ammo is a trustworthy company, but is it right for you?
Let's move on to the benefits and drawbacks of this ammo.
Pros and Cons of Precision One Ammo
Pros
Reliable, very few malfunctions or misfires happen even with their remanufactured ammo
Accurate, so you can count on it to hit where you're aiming
Reasonable recoil, you won't experience any more recoil than you do from other brands
High-quality standards backed by a 1-year warranty
Large caliber selection
Reasonably priced
New and reman ammo with reasonable muzzle velocity
Cons
Hard to find in stock
Not as good as Hornady for self-defense
The pros clearly outweigh the cons for plinking and competition purposes. However, if you're looking for a home defense round, I'm still using Hornady Critical Defense for personal protection.
Here are a few customer reviews, so you don't have to take my word alone-
"I recently purchased a 100-round box of 45-70 300gr hollow point (HP) from you guys. All I can say is WOW!! I reload, so I knew this was a hotter load, and that is what I wanted. Your ammo is beautiful; I mean, this stuff is gorgeous. Cycling? My Marlin 1895 Trapper loves this stuff! Smoothest ammo I have ever used, bar none! Accurate? I was driving tacks at 50 yards with my stubby 16" barrel, can't wait to use them with my 22" 1895 at 100 yards. I can't wait to turn a few fellow "Big Bore" guys onto your ammo. Crack open a cold one, light a cigar, and pat each other on the back! A job well done, guys and girls, a job well done!!" - Mike Butler
"I have a Kahr CW380. It's a tad picky on ammo, but it loves this stuff. Cycles it flawlessly. Tight groups." - Michael Riley
"I was having trouble locating rounds for my Ruger Blackhawk 41 mag when I heard about Precision One. I ordered two boxes to see how they do. I'm impressed. Not a single FTF, is reasonably clean, and more accurate than I am. I will use Precision One as my "go to" brand in the future." - Jeffrey A Dewey.
As you can tell, many other firearm owners love Precision One full metal jacket and hollow point ammo for target shooting.
Now let's see if they make your favorite caliber.
Which Calibers Are Available from Precision One?
Here's a quick reference list of calibers that Precision One ammunition manufactures-
22 Mag
223 Remington / 5.56 NATO (5.56X45mm)
30 Carbine
41 Magnum
460 Magnum
50 Beowulf
7.7X58mm JAP
8mm Mauser
Precision One Ammo History and Important Information
Founded in 2008, Precision One ammunition is still an infant compared to Winchester, Hornady, and other major ammo manufacturers.
They produce some of the world's most reliable and accurate ammunition thanks to their commitment to quality, innovation, and precision.
Whether you're looking for a 9mm 115-grain FMJ for your Taurus, a 50 Beowulf 350-grain XTP, or anything in-between, Precision One ammo has you covered.
Where Is Precision One Ammo Made?
Precision One Ammo is made in Charleston, SC.
That's right; they're an American-made brand, so you can trust the ammo you're getting is high-quality. And if it's not, they stand behind their products with a one-year manufacturer warranty.
Frequently Asked Questions
Below you'll find some of the commonly asked questions we receive about Precision One Ammo.
Is Precision One Ammo Corrosive?
No, Precision One Ammo is not corrosive.
Is Precision One Ammo and Precision Ammo the same?
No, Precision One Ammo and Precision Ammo are not the same company. Precision One is a US-based ammo manufacturer, while Norma Precision is a Sweden-based company.
Parting Shots
Now that you've read this Precision One Ammo review, you don't have to spend hours researching Precision One Ammo.
You know they're a good brand, and why so many other shooters trust their products even though they've been around a fraction of the time as other brands like Winchester and Hornady.
Be sure to head over to ammo.com for all your ammo wants and needs.
Precision One Ammo Review: Should You Feed It to Your Gun? originally appeared on Ammo.com