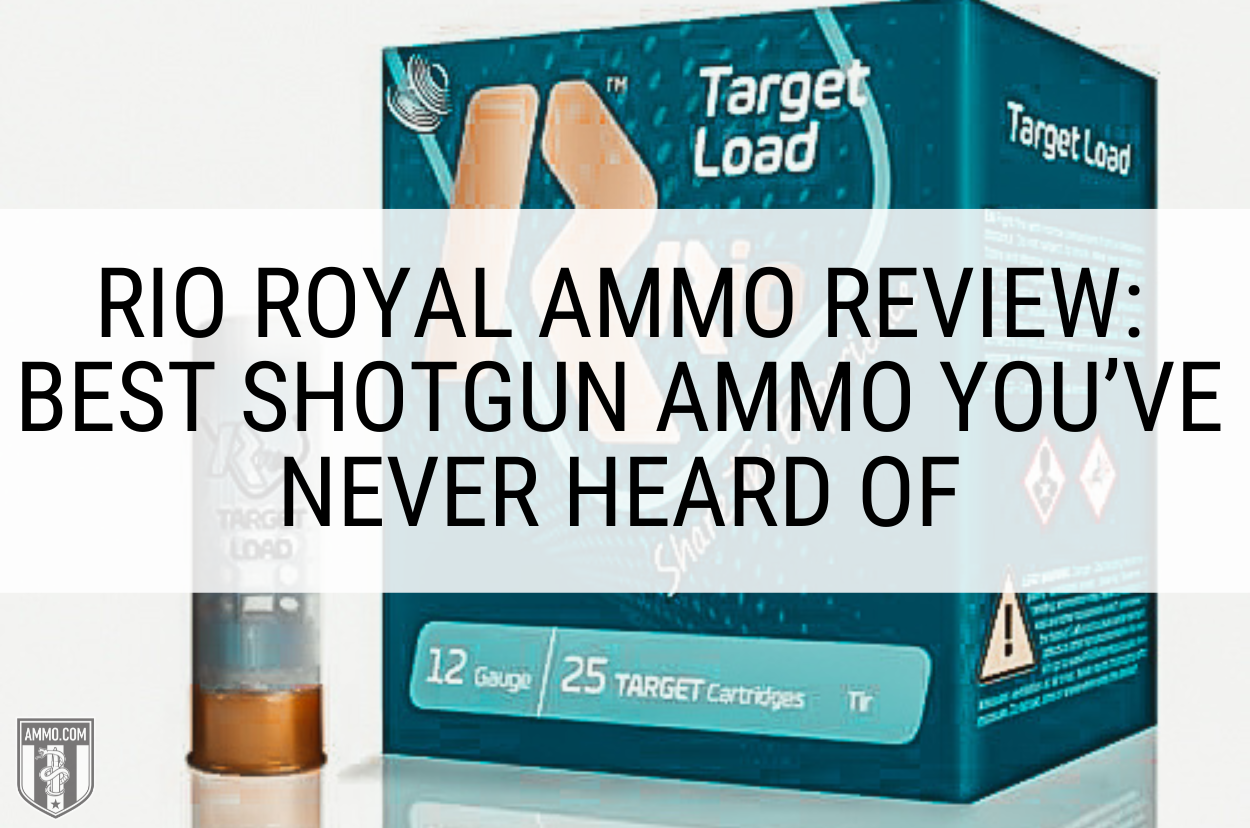 Looking to learn more about Rio ammunition and find out if their ammo is worth your time? We were curious too, and so we decided to do a full review of Rio Royal ammo to see how it measured up to more familiar offerings.
This is what we found out.
Rio Royal Ammo Review: Is Rio Royal Any Good?
Let's get the basics out of the way first. After all, if the ammo is crap, we can save some space and just wrap this up here.
Long story short: the ammo is good.
Rio Royal specializes in shotgun shells, particularly for hunting and competition. They make all their components in-house, so they control their entire supply chain other than raw materials. This gives them total control over every aspect of their ammo, and they use that control to produce some very high-quality stuff.
Our best results came from their game bird hunting line and their competition target loads. Both of these patterned extremely well, up there with some of the most premium and beloved options on the market.
They also make a variety of lead-free loads, which are becoming more and more the norm at some ranges and are, of course, required for hunting waterfowl or hunting on certain protected lands.
All of the ammo we tested, from the competition shooter-grade stuff to the high-velocity birdshot, functioned extremely well. Everything had a very consistent muzzle velocity that was pretty close to the fps rating on the box and often exceeded it.
We also found that single-shot patterns were both consistent and right in line with what we'd expect from high-end sporting ammo like the Rio Royal buck and birdshot claims to be. It does what it says on the box.
We tried ammo from each product line and found that it cycled well in semi-autos (except for the low-recoil stuff, but that's not really a failing of the ammo), and in general, we were very impressed.
All in all, I would definitely use Rio Royal on my own hunts, and so would the rest of the folks on our testing team. Some of us have been very successful with the stuff (Me), and some of us got skunked (Darren, cough), but that certainly wasn't the Rio ammunition's fault.
In other words, it's good ammo.
If you'd like to learn more about the company, you can read our full breakdown of Rio Royal ammo for more information about its offerings and what's out there.
Pros and Cons of Rio Royal Ammo
Rio Royal makes great ammo, but as always, there are pros and cons to buying from them, just like there are with any other manufacturer. Here are some things to keep in mind when making your choices.
Pros
Some of the best shotshells on the market
Most common shotgun gauges supported
VERY high-quality hunting loads
Tight-patterning target loads
Lead-free loads for waterfowl or hunting on protected lands
Vertically-integrated supply chain (they control the making of each component from primers and hulls to projectiles and powder)
Consistent output, so if you can find somewhere that stocks Rio Royal, they'll typically have it consistently
Typically available at a great price, depending on the retailer, of course
Cons
Only shotgun ammo, no rimfire or other center-fire offerings. No handgun or rifle ammo. Just shotgun shells
Not as widely available as some other US-headquartered manufacturers like Remington or Winchester
Sold by limited retailers, limiting accessibility
No purpose-built home defense buckshot loads (not that a violent attacker can tell the difference between buckshot meant for deer and self-defense buckshot with a name like Ultra Defense Plus)
Which Calibers Are Available?
Rio Royal focuses on shotgun ammo, which makes sense given that they started in the European sporting market, which is predominantly bird hunting and trap shooting.
That said, they do support most common shotgun chamberings, including:
.410
28 Gauge
20 Gauge
16 Gauge
12 Gauge
They offer game loads, target loads, lead-free loads, the most common sizes of buckshot and birdshot, and slugs for all of these chamberings. They don't, as of yet, produce pistol or rifle ammunition under the Rio Royal name, so you'll have to look elsewhere for your 9mm ammo or .223 Rem ammo (don't worry, we've got plenty).
They also offer low-recoil buck and birdshot, and I can confirm that Rio Royal buckshot, of appropriate shot size, will absolutely flatten a whitetail deer when fired from a Mossberg 500. The stuff works, and I've got the meat in my chest freezer to prove it.
Rio Royal Ammo History and Important Information
Rio Ammunition is actually a subsidiary of MAXAM, a Spanish munitions manufacturer founded in 1896. MAXAM has been marketing its shotgun shells under the Rio ammo brand in the United States since 2002, and all ammo sold in the US is made here.
The original Rio plant was located in Tennessee but was eventually relocated after an explosive accident to McEwan, Texas.
Since 2015, Rio has been making shotgun shells in their Texas-based plant for the US market and has managed to completely own their own supply chain. That means every shotgun hull, every grain of powder, every primer, every piece of brass, and every wad is all made locally in McEwan.
This, of course, is all well and good for Rio and the dream of manufacturers everywhere, but the benefit to we humble consumers is much, much, much, higher quality ammo.
Because Rio controls every aspect of the bits and bobs that go into a shotgun shell (hull, primer, powder, brass, wad, shot) and also controls the actual manufacturing and assembly of the shell itself, they can produce incredibly consistent ammo to their exacting standards.
And make no mistake, the people at Rio are very passionate about their jobs. Many of them are long-time industry veterans swooped up from the closure of the now-defunct Longhorn Army plant known for making TNT during WWII and decommissioning Pershing missiles after.
These days, their focus is on shotgun shells and reloading components, but the passion for things that go boom (and the experience gained from working with explosives for several decades without losing any fingers) are still alive and well.
Where Is Rio Royal Ammo Made?
Rio Royal Ammo is made in McEwan, Texas, in its 40,000 sqft facility.
Frequently Asked Questions About Rio Royal Ammo
Here are the questions we get asked the most at ammo.com regarding Rio Royal ammo-
Are Rio Shotgun shells good?
Rio shotgun shells are very good and easily equal to the quality of other commercial offerings from domestic manufacturers.
Does Rio Royal ammo have a high recoil?
Rio ammo has moderate recoil compared to its peers, and there are especially low recoil offerings available as well.
Final Thoughts on Rio Ammo
All in all, I was impressed by my time with Rio Royal ammo and their other lines as well. Everything performed exactly the way you'd want and expect it to, which is really all you can ask for.
I've since continued using the ammo long after my formal Rio ammo review period was up, and I still have found absolutely nothing to complain about.
If you're interested in reading more, we have a deeper breakdown of their products and company history available on our Rio ammo page, or you can check out our other ammo reviews of manufacturers like Prvi Partizan or local favorite Hornady.
Rio Royal Ammo Review: Best Shotgun Ammo You've Never Heard Of originally appeared on Ammo.com