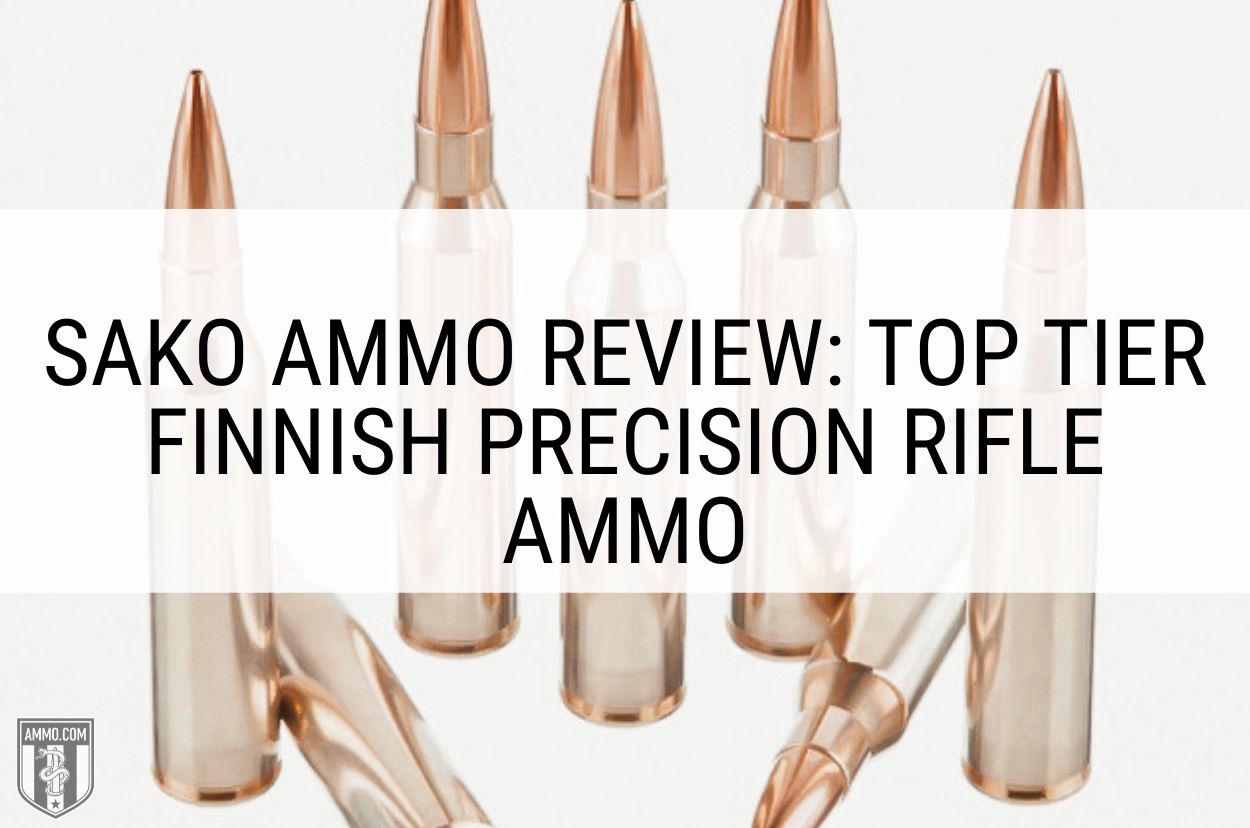 When it comes to precision rifle ammo, there are a lot of different options on the market. Hornady, Nosler, Barnes, Sierra, and Berger all make exceptionally accurate ammo. However, if you need sub-MOA match-grade ammo ready to go out of the box, then you need to get your hands on some Sako Ammunition.
Known across Europe and the Americas for producing some of the finest bolt-action rifles for big game hunting and precision shooting, Sako rifles are some of the best in the business. However, many shooters are unaware of the unbridled potential that Sako ammo has when it comes to terminal performance and accuracy.
In this Sako ammo review, we are going to look at the different ammo lines Sako has to offer and explain which ones will fit your needs best. Furthermore, we will dive into the history of Sako Ammunition and explain how and why they produce some of Europe's most accurate ammo.
Is Sako Ammo Good?
Yes! Sako makes incredibly high-quality ammunition for hunters, target shooters, and for training. Their dedication to quality and consistency lead to many of Sako's multiple ammunition lines achieving sub-MOA levels of accuracy.
Pros and Cons?
As much as we love ammo, we understand that no manufacturer is perfect. Here are some of the pros and cons of Sako ammo you should be aware of.
Pros
Perfect for long-range shooting with a high ballistic coefficient
Rapid expansion and exceptional terminal ballistics for hunting bullets
Sub-MOA accuracy out of the box
Cons
Low availability
Expensive compared to other manufacturers
Centerfire rifle only, no handgun or rimfire calibers available at this time
Which Calibers are Available?
Sako offers a wide variety of centerfire rifle ammo in different chamberings, here are some of their most popular factory loads:
Sako Ammo History and Important Information
Two years after declaring independence from Russia, the Finnish company Suojeluskuntain Yliesikunnan Asepaja (Civil Guard Supreme Staff Gun Works) opened in a former brewery in the town of Helsinki. Their aim was to repair and recondition private Russian military firearms for Finnish military service.
The company became financially self-sufficient in 1921 and the company moved from the brewery location to a former ammunition plant in Riihimäki in 1927. Then in the 1930's, the company reorganized and became SAKO, Ltd.
One of Sako's major windfalls was exporting handgun cartridges to Sweden in the 1930's leading up to and through World War II.
The 1980's was a period of major changes for the Sako corporation. In 1983, Sako absorbed another Finnish rifle maker, Tikkakowski, which made the Tikka rifle brand, and then in 1986 Sako merged with the Valmet conglomerate.
After multiple organizational shifts over the next 15 years, Sako was sold to Beretta Holding in 2000.
When it comes to precision bolt-action rifles, Sako finds themselves in a tier of their own. Tikka rifles, by comparison, are more of a budget-friendly option.
Perhaps the most iconic Sako rifle would be the Sako 85, the company's premium bolt-action hunting rifle available in a wide variety of centerfire calibers. Bridging the gap between the budget Tikka T3x and Sako 86 is the Sako A7, a midrange bolt-action that combines multiple features from both rifles.
If you like rimfire shooting, then you can look at the Sako Quad, which is available in 22 LR, 22 WMR, 17 HMR, and 17 HM2.
However, if you want top of the line, you simply cannot beat the Sako TRG. This is a sniper rifle built for military and law enforcement use and is one of the most accurate rifles the company offers.
When it comes to cartridge development, Sako has several cartridges to its name, however they never really caught on in the North American market.
Today, Sako manufactures some of the most accurate ammunition and rifles on the planet that are held in high-regard with precision rifle shooters and military snipers across the globe.
Where is Sako ammo made?
Sako ammunition is manufactured in Riihimäki, Tavastia Proper in southern Finland.
What Ammo Lines Does Sako Ammunition Sell?
Imported by Beretta USA, Sako ammunition has multiple loadings that are perfect for incredibly tight shot groups and rapid expansion for big game hunting. Below we will go through each variation of Sako ammo as their naming structure can be a little confusing if you aren't used to it.
TRG Precision – If you're headed to a long-range precision rifle shooting match and want the tightest shot groups possible, then make sure to get a couple boxes of TRG Precision ammo. These cartridges are loaded with Sako-designed open-tip, boat tail match bullets for extreme precision and accuracy downrange and function similar to a Sierra Matchking. These are non-expanding bullets that are not ethical for big or medium-sized game hunting.
Sako Gamehead – The Sako Gamehead cartridge is made specifically for medium-sized game hunting along the lines of whitetail deer and feral hogs. These bullets are designed for rapid expansion with a soft point and a non-bonded core. This combination makes for a bullet that causes a massive wound channel on impact and is perfect for thin-skinned game.
Gamehead Pro – Similar to the Sako Gamehead, the Pro version of the cartridge is designed to deliver the same terminal performance on medium game but a longer range. Loaded with the Sierra GameChanger projectile, the Gamehead Pro offers hunters a high ballistic coefficient bullet that is perfect for long range that can put down game ethically and quickly with rapid expansion. These bullets perform similarly to the Nosler Accubond or Hornady ELD-X.
Sako Super Hammerhead – The Sako Super Hammerhead bullet utilizes a classic soft point bullet design with a bonded core to provide hunters with exceptional penetration and weight retention. Similar to other bonded bullets like the Remington Core-Lokt or Hornady InterLock bullet, the Sak Super Hammerhead is an excellent choice if you're looking to take on big game like elk, bear, or moose at relatively close range.
Sako Powerhead Blade – The Sako Powerhead Blade is the company's lead-free all copper hunting bullet. The copper blade tip utilizes what Sako calls "5-stage terminal architecture" to optimize the bullet's performance at any muzzle velocity. Similar in design to the Barnes TTSX, supposedly the Sako design minimizes the most common issues with all copper bullets: namely fragmentation and under-expansion.
Speedhead – If you like 3-gun competition or punching tiny shot groups into paper targets with your AR-15, then you need to get your hands on some Sako Speedhead ammo. These full metal jacket (FMJ) bullets are only available in for 223 Remington and are designed for extreme precision and a low recoil impulse.
FAQ's
What does Sako mean?
Sako is an acronym for "Suojeluskuntain Ase- ja Konepaja Osakeyhtiö" which is Finnish for, "Civil Guard Gun and Machining Works".
Why is Sako ammo so expensive?
Sako ammo is loaded with extreme precision and care for unparalleled downrange accuracy, and this carries a premium price point. However, if you want to shoot some of the most accurate rifle ammo available, then Sako is an excellent choice.
What is the best cartridge for hunting with a Sako?
Sako has multiple hunting cartridge that can fit every big game hunting need. The Sako Powerhead Blade bullet is excellent for long-range accuracy and is lead-free, while the Sako Gamehead Pro is a classic polymer tip design for rapid expansion and excellent terminal ballistics.
Is Sako ammo accurate?
Sako ammo is extremely accurate as it is loaded to match-grade specifications. Each powder charge is individually measured, and bullets are inspected for concentricity prior to loading. The result is a rifle cartridge with exceptional accuracy and precision.
Is Sako ammo corrosive?
No, Sako ammo is loaded with non-corrosive Boxer primers.
What primers does Sako Ammunition use?
Sako uses non-corrosive Boxer primers in all their centerfire ammunition.
Are Sako cases good for reloading?
Yes! Sako only loads brass cases that are Boxer primed, which are perfect for reloading.
Sako Ammo Review: Top Tier Finnish Precision Rifle Ammo originally appeared on Ammo.com