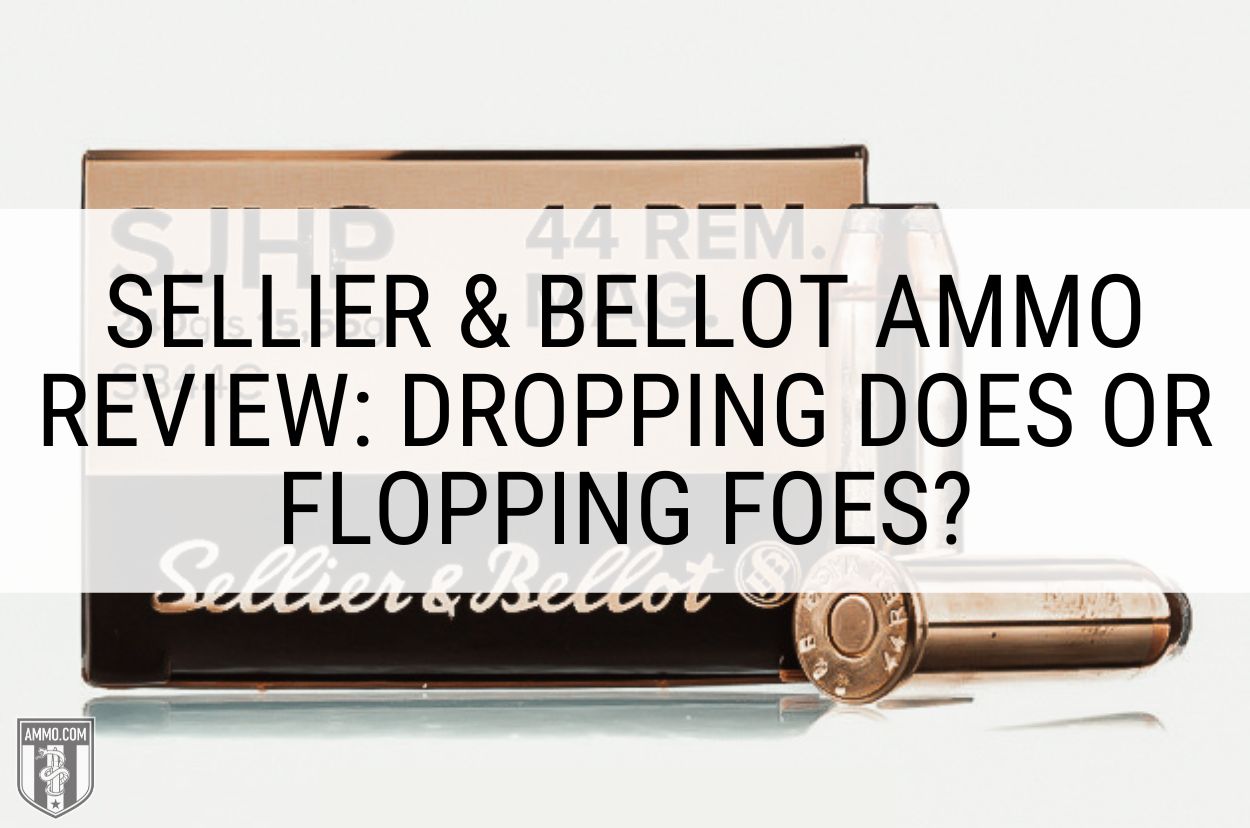 Sellier and Bellot ammunition (sometimes called S&B ammo) is a household name for those of us who've been shooting for years. It's a one-stop-shop ammo company based in the Czech Republic.
We're about to tell you how it stacks up to other popular American-made ammo brands like Remington and Winchester. Of course, if you're in a hurry, click HERE to browse our selection of Sellier and Bellot. But if you want our honest review of ammunition, we use regularly, keep reading!
Is Sellier and Bellot Ammo Good?
Sellier and Bellot is one of those names even novice shooters see everywhere; in competitions, at the hunting club, in ample supply online, etc. It didn't grow to become this popular without having a few excellent selling points and an excellent reputation.
Overall, the company produces good ammo. Shooters can get anything from FMJ to SP and polymer-tipped rifle ammunition to self-defense and plinking ammo for handguns and buckshot for shotguns.
Sellier and Bellot spends a lot on the research and development aspect of ammunition manufacturing too. For example, you can get a box of standard .45 ACP JHP (Jacked Hollow Points) for self-defense, or you could get a box of Sellier and Bellot 165-grain XRG Defense SCHP (Solid Copper Hollow Points) for a higher muzzle velocity (1,148 fps versus 889 fps) and more kinetic energy transfer.
The company's most recent development is the .22 Long Rifle subsonic rimfire cartridges with graphite-coated lead slugs. When it comes to creativity, S&B is on point.
While one of our favorite things about Sellier and Bellot is the premium ammunition (known subjectively as the 'good stuff'), it doesn't have a premium price compared to some other ammo on the market.
In today's economy, this aspect of S&B ammo is incredibly appealing. For example, the S&B 30-06 150–grain SPCE (Soft Point Cutting Edge) is comparable to the Remington 150-grain Core-Lokt SP but more than $1 cheaper per round (at the time of writing).
While both rounds fire soft point bullets, the SPCE is similar to Remington's Core-Lokt technology (the jacket is chemically bonded to the core), ensuring adequate penetration and expansion for medium-game hunting.
In my experience, Sellier and Bellot's ammo rarely malfunctions, and the company takes great pride in consistent uniformity. So much so that law enforcement agencies throughout North America and Europe get their bulk ammo from Sellier and Bellot.
Although I've never experienced FTF (failure-to-fire) when using S&B ammo, other shooters have reported such issues with 9mm and .357 Magnum S&B rounds. This may be due to harder primers or aging ammunition. Nevertheless, I often use Sellier & Bellot ammo in my Glock 19 (you can find the 9mm ammo I use here) and .357 Colt Lawman, and I haven't had any problems.
Pros and Cons
We'd never do a review on ammo we haven't personally tested, and we'd never leave out the good, bad, and ugly. Check out our list of Sellier and Bellot ammunition pros and cons:
Pros
Excellent caliber selection
Excellent availability and accessibility
Affordability
High-quality
Innovative designs
Versatile
Cons
The 9mm and .357 Mag primers are harder than some American-made ammo and can cause FTF malfunctions
It may not be great for stockpiling
Which Calibers are Available?
As mentioned previously, you can get nearly any caliber ammunition from S&B for everything from hunting to plinking and self-defense. Moreover, you can typically find it in stock and ready to ship.
Here's a list of S&B ammo calibers you're likely to find in stock:
Sellier and Bellot History and Important Information
Sellier & Bellot ammo company has supplied generations of shooters with high-quality and well-designed ammo for nearly 200 years. The company's history is one of triumph, intriguing characters, and progress.
Suppose you take Louis Sellier (an international businessman who left France to avoid serving under Napoleon) and Nicolas Bellot (a chemist interested in percussion primers). In that case, you get the Sellier & Bellot ammo company.
Unfortunately, we can only give you the condensed version of S&B's rich history in this article (let's be honest, keeping up with Czech's name changes would make this article far too long to be enjoyable).
Ultimately, the pair teamed up in 1825 and began to progress toward creating innovative percussion caps (using mercury fulminate), primers, and ammunition. However, their expert navigation of the physical and political geography of the time makes their story even more interesting.
When Sellier couldn't open a new manufacturing plant in Prague, Bellot married a Czech citizen and was granted citizenship himself. Sellier & Bellot officially had plants all over Europe and got their big break when the Prussian military needed primers for their new percussion cap rifles. The plants were equipped with the latest technology, and the pair rose to fame on nearly every continent.
The Czech-based company, acquired by the Brazilian CBC (AKA Magtech) ammo company in 2009, is known for its reliable, non-corrosive, bulk ammunition for militaries, law enforcement, hunters, competition shooters, and just about anyone else.
Where is Sellier and Bellot Ammo Made?
Sellier & Bellot ammunition is manufactured in Czechia (formerly the Czech Republic, formerly Czechoslovakia, etc.).
FAQs
Is Sellier & Bellot non-corrosive?
Yes. S&B ammo is non-corrosive (meaning you don't necessarily have to worry about corrosion and a laborious cleaning process after shooting). While I've never had a problem, it's still a good idea to clean your firearm after a day on the range (we've heard some horror stories about corrosion and the .30 carbine tapped gas system).
Is Sellier & Bellot ammo considered military grade?
Some of the ammunition produced by Sellier & Bellot is specifically manufactured for military use, making it military-grade. However, not all Sellier & Bellot ammunition is military grade.
What is the difference between Sellier and Bellot and other ammo?
The most notable difference for those in the U.S. is that Sellier and Bellot is Czech Republic ammo. Next, Sellier and Bellot ammo typically has a lower price tag than other popular brands (Speer, Remington, Winchester, etc.).
Regarding performance, functionality, and design, Sellier & Bellot is a great competitor with all of our American-made brands.
Is Sellier and Bellot ammo good for reloading?
Yes, Sellier and Bellot uses brass cases that are boxer primed, making it perfect for reloading.
What is the difference between JHP and SCHP?
An SCHP is a Solid Copper Hollow Point, whereas the JHP has a jacket over the (typically lead) projectile.
Does Sellier and Bellot produce 5.56 Nato and .223 Rem?
Absolutely! You can get great ammo in nearly any caliber, including FMJ (Full Metal Jacket) and basic range ammo in 5.56 NATO and .223 Rem.
Is Sellier & Bellot ammo clean?
Yes. I've never seen dirty or unappealing Sellier & Bellot ammo. The company uses high-quality components and a stringent quality control process to ensure each round is clean and functional.
Is Sellier & Bellot good ammo for stockpiling?
The answer to this question depends on your rifle or handgun. I advise new shooters to buy a small box of ammo for their favorite rifle or handgun (whether you're a Glock, Ruger, Sig, guy/girl, it doesn't matter), then buy it in bulk if it performs well.
To elaborate, one of my first boxes of Sellier & Bellot's 200-grain FMJ ammo (300 BLK) performed exceptionally well, so I proceeded with a more significant purchase to keep stored.
Parting Shots
As someone who regularly takes Sellier & Bellot ammunition to the range, it's proven to be excellent ammo and, in some cases, a fraction of the cost. We love that you can purchase nearly any caliber and bullet type, reload the vast majority of it, and it's easy to find.
Overall, it's exactly what we look for when purchasing reliable and affordable ammunition. However, it's important to test your ammo before buying in bulk or large quantities. Of course, that's true for any ammunition, too!
Sellier & Bellot Ammo Review: Dropping Does or Flopping Foes? originally appeared on Ammo.com