Maybe it's all overkill but Def. Cheaper and less neck rash for me ftw
Mine still does the hot neck towel and the straight razor shave on the neck. Ohhh yeah
I use a safety razor on occasion and one where just the head comes off the rest of the time.
Should have said multi-blade, instead of disposable. They both are, but you keep the handle on one.
Straight razors were never designed for a person to use. They were designed for barbers to use.
Null, that is a Chinese copy of a 1936 Gillette. It will wear out faster than the original, but shave just as well.
You might want to try a Edwin Jagger, depending on handle length, the heads are all the same. They are chromed at the Rolls Royce plating service and will out last me.
I have used Williams soap for years. I got hooked on Lather & Wood's Shaving soap. You can buy 15 Williams pucks for the price of one thin. Its glide factor is 10 times what Williams.
As far as brushes go. I used my Dad's the 70s, and in 2008 I bought an Edwin Jagger super boar. Ive never used anything else.
Blades are very personal. Ive tired 50 different blades. I stick with Feathers form Japan. They callem Ninja blades, because you can get cut and never know.
The Atras and Derbys are 9 bucks per 100, but my beard is too wiry for them. I do give them away with every razor I sell.
Women love both of those. Their skin is way more sensitive than a man's face.
I glad that a lot of you do not use multi-blades, for those that do.
There is a better way.
Pshaw… no!
I wasn't talking about my face.
I got a razor shave once a few years ago where they give you a beer and there are women on a loop in bikinis running on the beach on tv. nice place, but the shave still left stubble.
I thought it would be baby butt smooth?
Harry's disposables because I shave my head as well and 'safety' razors make that a P.I.T.A.
If it's done right(my last one was 2 days before flying cross country for a wedding), it won't be perfectly smooth but it will actually last longer. While I ain't got much left on top, my beard grows in at a decent pace. If I get a straight razor shave I will only need to touch it up over the next 3 or 4 days before it starts coming in at its regular rate. Getting one on my head will last, untouched, for about 3 days.
The other advantage is if you have a mustache/Goatee/etc. It's easier to get a clean edge with a straight razor.
Not enough choices in the poll. But I chose safety razor since that's the choice that comes closest. I'm a shaving nerd. I also make and sell after the shave products and shave soap.
I use both DE and SE razors, most are antiques, some as old as the turn of the century (19th to 20th) and I've wondered more than once whose hands they passed through. Another is a Rolls Razor and I hone and sharpen my own blade(s) for that. I have one safety razor that I took the comb off of so that I can get a "Rolls Razor" shave without the hassle of honing and stropping. I also have one modern razor. Wrong! I have 2 of the same model modern razor. The first was super aggressive which I prefer, and the 2nd is a hair less aggressive.
Some of the oldest SE razors. They use a blade that has the appearance of a hardware window scraper blade, but they are much sharper than those found in the hardware store.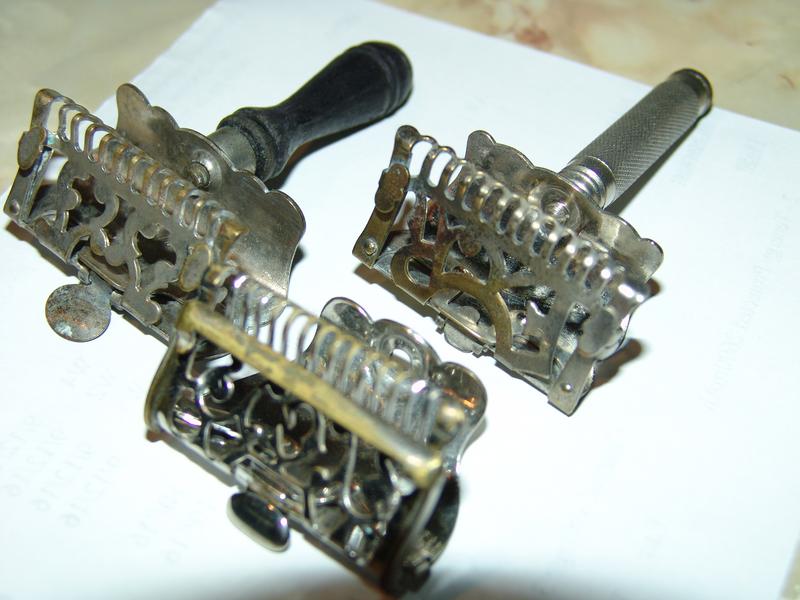 Have found many of those blades when replacing bathroom medicine cabinets,
wonder when they stopped building in those little slots
I have no idea when. Today I use an empty steel can with a slot in it. When the can is full I tape over the slot and take it in for recycling. Those slots in the cabinet never seemed like a good idea to me. When the blade is no longer sharp enough for shaving it's still much sharper than one from the hardware store. How does one deal with them inside the wall?
@Belt-Fed s side chick
In 73 when that came out I was already a rice paddy daddy.