No dog thread? Really, no thread about mans best friend? Heck, they're better than most people, outside this forum of course. WE discuss that POS brandon and no dogs? OK, I'll correct that.
No we don't have her yet, but if everything holds she'll be here Wednesday night.
It was quite the test of endurance to get her here, and I need to say again, she's not here yet.
For those who don't know we started out with Rottweilers, then went to a Cane Corso. Both excellent breeds, loving and intelligent, like a 3 year old human. But with age came a desire to downsize from 150# dogs to something smaller. So we now have an American Staffordshire and we had a terrier mix (AmStaff mix?) that we recently had to put down. We live in rural Maine and being dogless simply isn't an option. Having one dog isn't an option either. Shadow just hasn't been the same since Star was put down. We do what we can but we're just not another dog. In the desire to downsize I came across the Staffordshire Bull Terrier breed over a decade ago. Star and Shadow were supposed to be of that breed, but for one reason or another it didn't happen, they were both rescues. This time it was going to happen. Female SBTs have a max weight of about 30# and the mindset of a much bigger dog. Winter aka Winnie, is 10 weeks old I think and might weigh 10#, but that's just a guess.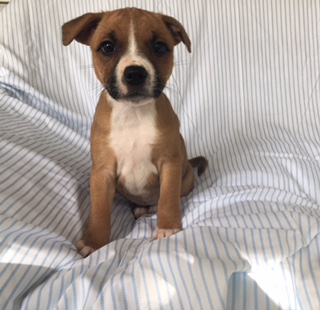 And as an adult this is what they look like. They come in many color variations.


They are rugged, small, and heavy for their size. Their job in the bloodsport bull ring was to grab and hold on. That's been bred out of them today. Not all that many years ago this was the original nanny dog. Leave kids with it and they were safe. Remember "Our Gang Comedy"? That dog was either a SBT ot an AmStaff that was bred here in the USA to be a bigger version of the SBT. Fantastic loving dog breeds, both.
So what did it take to get her delivered? I never heard of flight nannies. But the breeder wasn't going to ship her in cargo and I agreed with her. So I started to contact flight nanny services. What do they do? The animal needs to be <20#, and they bring it onboard the aircraft in the cabin with the people. We pay for the flights for the nanny and $ for the service. They try to dodge any airline fees for the pup, but they might be seen. We'll know on Wednesday. I started looking for a flight nanny a month ago and went through 4 of them. We thought it wasn't going to happen, but the latest FN service clearly worked to make it happen. So many things had to come together, we don't do text on our phones and text is mandatory. Our friend Jane does text so she had to be available. The breeder had to be available and she had a family member die. We had to be available, a Flight nanny had to agree to do it. They're in a pool and the request goes out. If no one takes it it doesn't happen. Of course there needs to be a flight. So we made it through the holidays and with all the cancelled flights, I didn't expect it to happen then. This is the 3rd potential flight and while not ideal it's OK and all the balls that are being juggled seem to have come together. Yeah, it's been a long haul and I was beginning to give up hope.
Shadow is in for a surprise (I hope). I hope it happens this time. We had one perfect flight but the FN bailed 30 minutes after we accepted. This FN has contacted us and we paid the FN service for their role in it today. What's left is to meet the FN, pay "her" (could be a guy) and accept the dog. Excluding today, 2 more days.
She'll be the most expensive dog we ever bought and also the smallest. But we're hyped. According to the breeder she is the perfect dog for us and would make a great therapy dog. Lousy time in Maine to be housetraining, but we didn't want to wait longer. We were thinking of our dog who's alone and needs a companion. OK, us too. We need a second dog.