Nice!
Nice!
Not sure what the hell happened there… must have had it switched to 'Burst Mode' LOL
I have never seen a dog that hated people that took him in. Until after they abused him, of course.
Yup, same here unless they are somehow mental to begin with. It happens with dogs too, but in humans we call them leftists.
Our is learning pretty good. we have our slips when I miss the signals.
She does pee and poop FAST when COLD because she knows the house is warmer.
Winter advantages, Poop patrol is way easier when it's FROZEN SOLID.
Lots of time has passed. Not only time has passed, so has her puppyhood. She was a handful for folks our age, but we all survived. Shadow, her older brother has arthritis showing but loves to play. She is by far the smallest and loudest dog we've ever had. They've been described as a big dog in a small body and she definitely fits that description. She just doesn't know how small she is.
Pics of the night we picked her up and last week.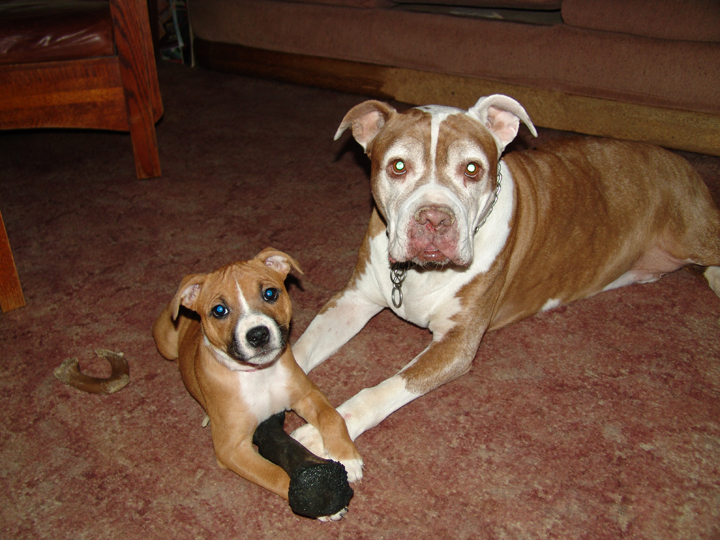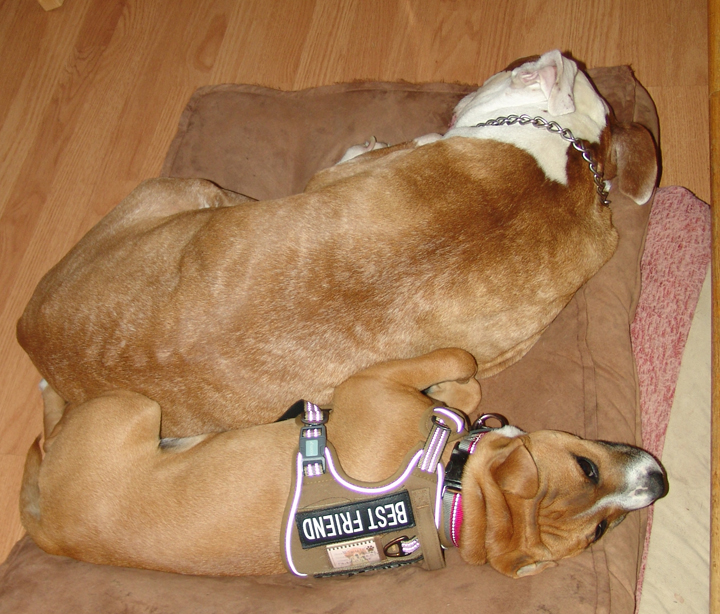 She's grown a bit and lost all but one needle tooth. She pulls on the collar and that was a concern, hence the "tactical harness". I think that's too funny! What was billed as a tactical harness for a 30ish# dog. And for night ops it has stitching that is reflective and glows in the dark. Yeah, a tactical harness! My ammo bearer! I tried some items I had on hand and they're all too large for the harness and molle loops.
I'd like to train her to be a therapy dog for the VA. We'll see if she's capable. Right now she's developing into one heck of a dog. Did I mention what a handful she was at the beginning?
She's so friendly that we had to have her chipped. I could see her walking away with anyone and wagging her tail the entire time.
He is beautiful. Great dogs.
Anka is the same way. We chipped her too. Its interesting how similar looking they are, except for the white on the face. Anka is a Staff-Boxer F1 cross. These two pics are from her first day with us.
Hanging with Dad while Mom is in shopping for a collar.

Here is her spot she picked. Her bed is there still.

Anka isn't noisey (we trained her from day one to be 'suppressed'), but she sure is nosey! She is full of energy too!

Smart as a whip she has to know everything that is going on. She is 10 months (3days ago) and comes to get you if something is going on outside she thinks we need to know about, and gives you this look.

Good lookin' dogs! I think I've stated it before, dogs are some of the best people. Heck, when we go to visit folks with dogs I say "Hi" to the dogs same as I do the people and sometimes before. Not as a slight but I'm clearly a dog person.
Anka developed the legs of a boxer. But yes, very similar looking. It's gotta be the Staffie genes.
I need to weigh Winter aka Winnie aka Win but I think she is close to full stature now. She might get a little more muscular but the breed is small. For ex big dog owners she'll forever be seen as a pup in our eyes if that makes sense. It's getting warmer and soon I'll take her out in public to get her more accustomed to people.
Lock your wife in the trunk for an hour. Lock your dog in the truck for an hour. Let them out. Who is happy to be out and see you.
I bet! like all of them here, they're all spoiled rotten too! Good looking Pup.
From his TV viewing choice I see he's a Smart Dog…
Mom's current protectors in the country, now down here for a visit/
My old dog franklin da pooie. a bit big at 210lbs
2 rules with him:
NEVER approach the gate. NEVER try to pet him over the gate. He took off part of a neighbor's finger. His wife wanted to sue.He told her i was told never to do that a 100 times and he was going crazy as i approached the gate.
2nd: NEVER, EVER, EVER try to grab his jowls, getting his face and do the "who's' a good boy"" shit. You will get got.
Other than that, once you got into the house and went outside, he forgot you were trying to get in his gate and he loved to place his chin straight up against your belly to get ear tugs.
Not a small dog, but the house and wife walking him were quite safe when she lived in the hood.
2nd pic doesn't look like much. My bachelor party. Buddy's uncle didn't not heed the warning. His nose had a flap installed .
Old crazy and super nice 'nam vet. Kept wanting gas to stop the bleeding and we super glued it back on and we were off to the Fr. Qtr.