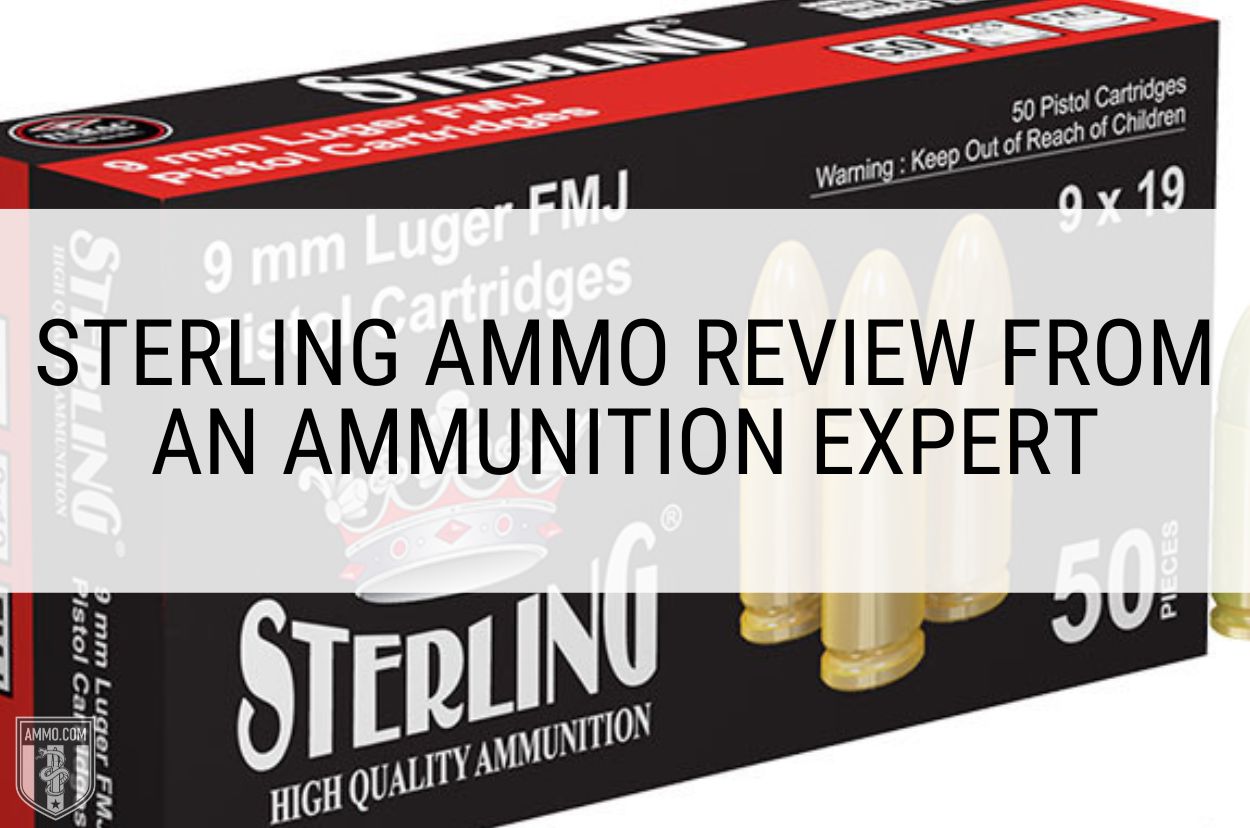 Turac Sterling Ammunition is a Turkish ammo brand known for crafting rounds for a wide variety of shooting enthusiasts, including their popular, environmentally friendly lineup of ammo.
In this Sterling Ammo review, I'll break down everything shooters, like myself, love and don't love about this brand of ammo.
Let's get started with determining if Sterling ammo is good for you.
Is Sterling Ammo Good?
Yes, Sterling Ammo is good for most shooting applications.
With an extensive product line, they likely have the ammo you're looking for. Whether you're in the tactical (taktical) realm or want to test out a new waterfowl hunting shotgun shell, they have ammo worth checking out.
They produce high-quality ammo for competition shooting and self-defense scenarios.
The main problem is getting reasonable quantities of quality ammo in the US. Since they are a Turkish ammo manufacturer, the US is not their target market; therefore, many ammo dealers don't have many options in stock regularly.
Pros and Cons of the Sterling Brand
As with all ammo, there are pros and cons you should be aware of before buying Sterling Ammunition.
Pros
Environmentally-friendly line of ammo
Reasonably priced brass and steel-cased rounds
Covers a wide range of shooting activities (10 different product groups), from hunting to competition and defense
Multiple calibers, including Sterling 9mm, 45 ACP, 12 Gauge, and 5.56.
Reloadable (brass cases)
Cons
Factory reloads can cause jams in handguns and carbines
Low accessibility, the ammo is hard to find online
Their website isn't finished or easy to navigate
Poor reviews because of malfunctions, poor primer strikes, and just plain dirty ammo
Which Calibers Are Available?
Sterling Ammo offers many calibers for shooters, and Ammo.com carries some of these calibers and gauges from time to time.
Sterling Ammo History and Important Information
Established in 1987, Turac Sterling strives to produce high-quality ammunition.
Their most popular product is 9x19mm handgun ammo for home defense and law enforcement, as they have lethal and less-lethal rounds used for training and real-life defense situations.
The lethal rounds are your typical full metal jacket (FMJ), total metal jacket (TMJ), jacketed hollow point (JHP), and subsonic rounds.
The less-lethal rounds are frangible and rubber bullets, which allow law enforcement and militaries to train at a much lower risk of injury or death.
They also have a line of 5.56 rifle ammo with similar options for training.
Their 7.62 cartridges are either steel-cased (cheaper option) or brass cased, with an FMJ, steel core FMJ, rubber, or frangible bullet.
The most intriguing round is the 12 gauge anti-drone shells in Semi Magnum, Super Magnum, and Magnum. These are intended for military and law enforcement purposes only.
They also have a line of exotic 12 gauge shells with the Shershen, Sheriff, and Bolide—as well as less-lethal rubber slugs and buckshot.
Sterling hasn't left the hunters out of their product lines as they primarily focus on shotgun hunters with steel shot and big game hunting with slugs.
They have a few different variations of slugs, including the Tornado Slug and Super Slug, among many others.
Here are some quick ballistics for their 9mm ammo-
Bullet: 115-grain full metal jacket (FMJ)
Muzzle Velocity: 1,148 fps
Muzzle Energy: 337 ft-lbs
Casing: Brass
Bullet: 124-grain FMJ
Muzzle Velocity: 1,214 fps
Muzzle Energy: N/A
Casing: Brass
Sterling 5.56 ammo ballistics -
Bullet: 55-grain FMJ
Muzzle Velocity: 3,250 fps
Muzzle Energy: N/A
Casing: Brass
Sterling 7.62x39 ballistics-
Bullet: 123-grain FMJ
Muzzle Velocity: 2,362 fps
Muzzle Energy: 1,524 ft-lbs
Casing: Steel
Sterling Tornado Slugs 12 Gauge shotshell ballistics-
Bullet: 1 oz slug
Muzzle Velocity: 1,460 fps
Muzzle Energy: N/A
Casing: Shotshell
While they don't have as a vast number of products as CCI Blazer, PMC, Sig Sauer, or Winchester, their prices are often lower than these more prominent ammo brands. Which makes it ideal for a day of plinking or if you're hunting on a tight budget.
However, their primary market is outside the US, and their stock is often very limited to mostly shotshells, 9mm, 5.56 NATO, and 7.62x39mm.
Where Is Sterling Ammo Made?
Sterling ammo is made in Turkey. They export their ammo to over 85 countries, including the US.
The Turac company was established in Ankara, but its ammunition factory is now in Çankırı.
Frequently Asked Questions
Below you'll find the answers to some of the most commonly asked questions about Sterling Ammo.
Is Sterling ammo remanufactured?
Sterling ammo is not all remanufactured. They have a factory reload line, but they also manufacture new ammunition.
Is Sterling ammo reloadable?
Yes, Sterling ammo is reloadable. If you buy the brass cases, you can reload them. However, if you buy steel cases or factory reloads, you won't be able to reload them.
Has Sterling ammunition had a recall?
Yes, Sterling Ammunition had a recall on their green box 9mm ammunition in 2021.
Parting Shots
After reading this Sterling ammo review, you now understand the pros and cons of this Turkish ammo. While it's less expensive in most cases, you'll run into a few malfunctions or have to clean your gun much more often.
If this sounds like a fair trade, go ahead and pick up a box or two at Ammo.com today!
Sterling Ammo Review From an Ammunition Expert originally appeared on Ammo.com