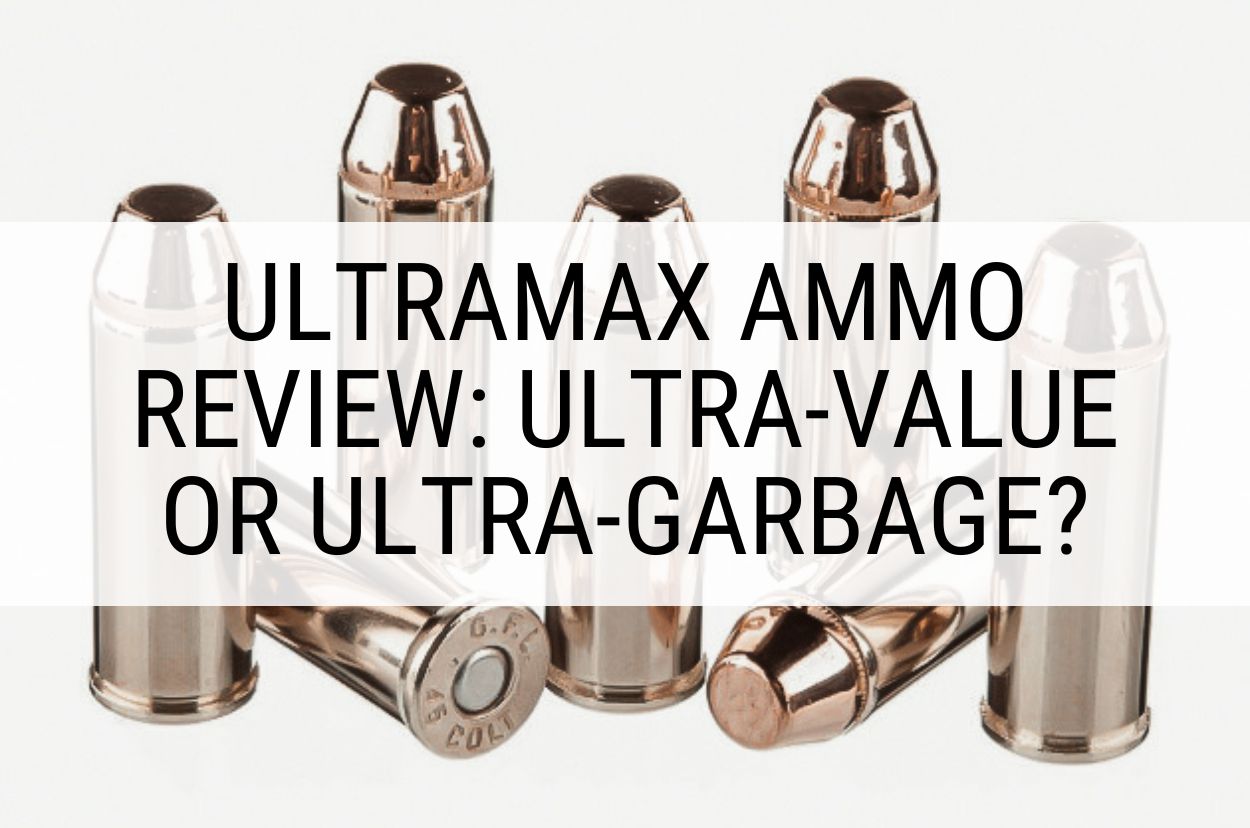 When I got my first 1911, a Kimber TLE Custom II, I started testing all the ammo I could get my hands on. And like many shooters, I was a little leery of using remanufactured ammunition in my brand-new piece.
However, eventually I came upon a smoking hot deal at a gun show for a value pack of Ultramax ammo, so I decided to checkout this brand. The 230 gr fmj ammo I purchased worked just fine in my 1911, and eventually brought me to the point of reloading my own ammo for that handgun.
Although Ultramax is remanufactured ammo (think reloading on a large scale), many shooters enjoy the great value the company offers when stockpiling ammo and ensuring their ammo cans are full for shooting season.
But is Ultramax ammo right for you? In this detailed ammo review, we will take a long, hard look at Ultramax Remanufactured Ammo and help you decide if this is true value or gun show garbage.
Is Ultramax Ammo Good?
Ultramax ammo is perfectly fine for target shooting and plinking. Furthermore, the company has a Cowboy Action Shooting line of ammo that is great for competition. However, some shooters report that Ultramax remanufactured ammo produces higher levels of smoke and carbon fouling than factory new ammo from companies like Remington, Hornady, Winchester, Blazer Brass, or Black Hills.
Pros and Cons?
As much as we love ammo, we understand that no manufacturer is perfect. Here are some of the pros and cons of Ultramax ammunition you should be aware of.
Pros
Great price
Brass-cased ammo
Cons
No production since 2018
A little dirty
Which Calibers are Available?
Ultramax offers a wide variety of rimfire, centerfire rifle, and handgun ammunition in different chamberings, here are some of their most popular factory loads:
38-40
45 Schofield
45-90 Winchester
Ultramax Ammo History and Important Information
Established in 1986, Ultramax Ammunition stives to produce high quality ammo at a reasonable price to shooters and law enforcement. Ultramax Ammo offers multiple lines of practice ammo, hunting ammo, and Cowboy Action Shooting loads to meet all the needs of shooters across North America.
One thing that bothers some shooters is that Ultramax is remanufactured ammo. Remanufactured ammunition is essentially reloading on a factory-sized scale. Many shooters don't trust any reloads that they themselves didn't make, as the last thing any 2A supporter wants is an unscheduled trip to the gunsmith for an exploded handgun!
Although many shooters are leery of reloads, those shooters who have tried Ultramax remanufactured ammo understand the quality and value the company provides. Furthermore, law enforcement has also used Ultramax ammo in the past, as Ultramax is a licensed law enforcement distributor for CCI/Speer, Federal, and Winchester.
Ultramax offers multiple projectile types to meet all your shooting needs, full metal jacket (FMJ), jacketed hollow point (JHP), and bare lead bullets are all available. Some shooters and customer reviews indicated that Ultramax ammo is smokey and dirtier than factory new ammo. However, this seems to be more of an issue with the company's revolver ammo as opposed to rifle and semi-automatic pistol ammo.
Perhaps the saddest thing is that Ultramax has been out of production since 2018, when a fire destroyed their entire production facility in Rapid City, South Dakota. The ATF ruled this fire was accidental and no foul play was involved.
The company stated after the fire that they had full plans to rebuild, however no reconstruction ever took place. As such, the company has not produced any ammunition since that fateful day in May 2018.
Once a common thing to see at gun shows and sporting goods stores, Ultramax ammo has become extremely rare to find in the wild. If you do see it for a good value, we'd recommend you check out this brand and see if you enjoy shooting some quality remanufactured ammo.
Where is Ultramax ammo made?
Ultramax ammunition was made in Rapid City, South Dakota. However, after a fire destroyed their factory in 2018, the company has not made ammunition since.
FAQ's
What is the difference between Ultramax and Hornady?
The main difference between Ultramax and Hornayd is that Ultramax sells remanufactured ammo while Hornady produces factory new ammo. Remanufactured ammunition is essentially reloading on a factory scale.
Is Ultramax ammo accurate?
Standard Ultramax ammo is accurate enough for plinking and target practice. However, the company does offer match-grade ammunition that we found to be very accurate for remanufactured ammo.
Is Ultramax still making ammo?
In May 2018, a fire broke out at the Ultramax factory resulting in the entire facility being destroyed. Although Ultramax said they would rebuild, the company has not produced a round of ammunition since that day. The ATF ruled the fire was accidental.
Is Ultramax closed?
At the time of writing, Ultramax has not produced ammo since a fire destroyed their factory in May 2018.
Is Ultramax clean ammo?
Revolver shooters reported that Ultramax was extremely dirty. This is likely due to underloaded remanufactured ammo, producing lower muzzle velocities and insufficient pressures for a clean burn. Many shooters also reported Ultramax as being smokey ammo, especially their rounds loaded with bare lead bullets.
Is Ultramax ammo reliable?
In my experience, Ultramax ammunition was generally reliable with minimal misfires or jams. However, some other shooters report multiple failure to fire (FTF) malfunctions per value pack.
Does Ultramax make shotgun shells?
No, Ultramax ammo is only available in centerfire rifle and pistol ammo.
Is Ultramax ammo corrosive?
No, Ultramax ammo was loaded with non-corrosive Boxer primers.
What primers does Ultramax Ammunition use?
Ultramax used non-corrosive Boxer primers for all their centerfire ammunition.
Are Ultramax cases good for reloading?
Yes! Ultramax manufactures high-quality brass cases that are Boxer primed, which are perfect for reloading.
Which Ultramax 9mm ammo works best in a Glock?
My personal favorite Ultramax remanufactured ammo for my Glock 17 is their 9mm Luger 115 grain full metal jacket (FMJ) round nose. I've found this load to be extremely reliable (hardly any misfires or jams) and the 115 gr FMJ is perfect for target shooting.
Is Ultramax 45 ACP ammo safe for a 1911?
Yes, Ultramax remanufactured ammo is perfectly fine for you 1911. I fired a full value pack through my Kimber 1911 without issue. My favorite load is their 230 grain lead round nose.
Ultramax Ammo Review: Ultra-Value or Ultra-Garbage? originally appeared on Ammo.com