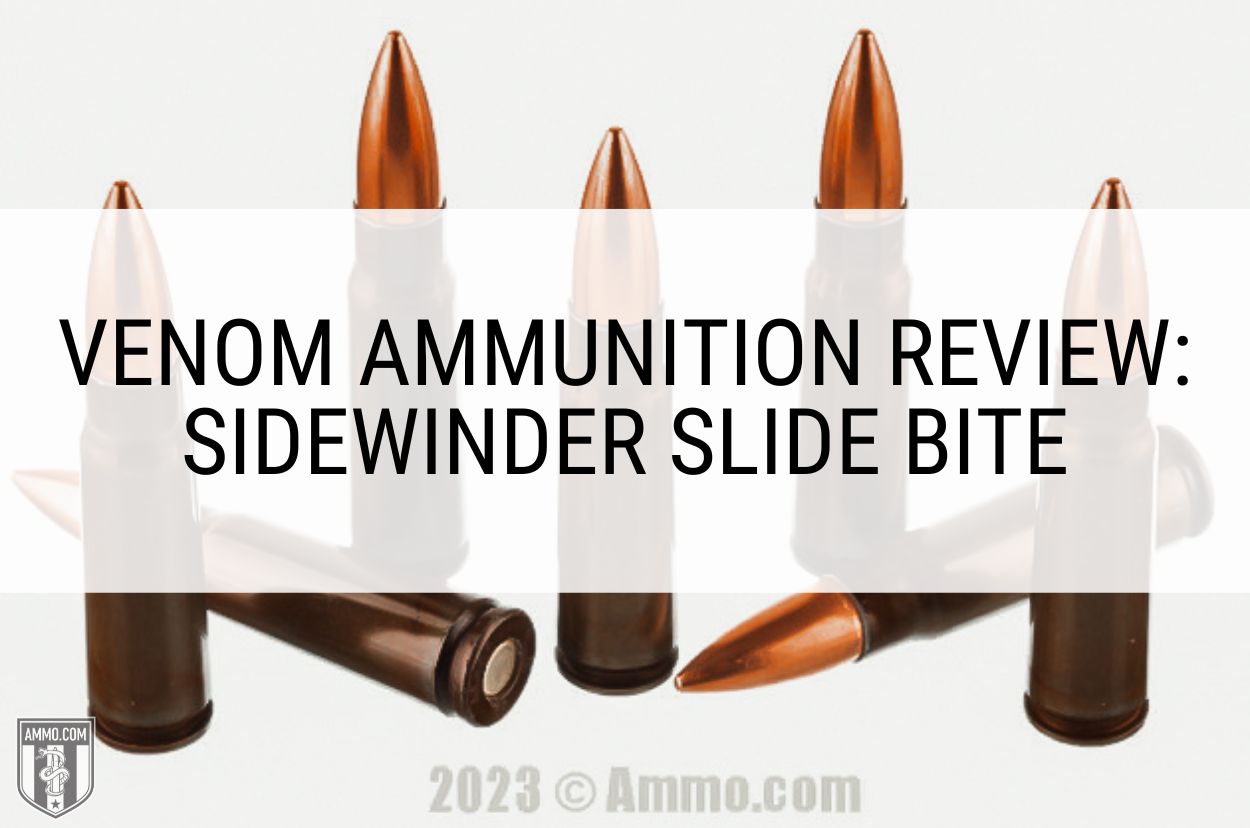 Venom Ammunition is a relative newcomer to the North American shooting community and offers marksmen an inexpensive handgun ammo alternative to more expensive brands like Remington, Winchester, and CCI Blazer.
Although Venom Ammo is currently only available in 9mm Luger in the USA, many handgun shooters have taken a liking to the pre-2020 pricing Venom offers and wonder if it is a good answer to their shooting needs.
In this Venom Ammunition review, we will take a hard look at this Turkish ammo company and determine if their 9mm Luger ammo will leave you smiling or snake bit.
Is Venom Ammo Good?
Venom Ammunition claims that they load all their ammo to CIP specs. However, reading customer reviews surrounding Venom Ammo is nothing short of a nest of vipers. Some shooters report Venom Ammo being loaded too hot and near the upper level of chamber pressure limits while other shooters report exceptional results when shooting Venom 9mm Luger ammunition.
Pros and Cons
As much as we love ammo, we understand that no manufacturer is perfect. Here are some of the pros and cons of Venom ammo you should be aware of.
Pros
Cons
Currently only 9mm Luger is available in the USA
Some reports of higher-than-normal muzzle velocity
Overall quality control concerns
Which Venom Calibers are Available?
Venom Ammunition is only available in 9mm Luger in the United States at the time of writing, however the company's catalog lists the following shotgun, handgun, and rifle calibers:
Venom Ammo History and Important Information
Venom Ammunition is the flagship brand of Medef Defense, a Turkey-based ammo company that operates out of Cyprus. Descending from the Turkish shotgun ammo company Avci, Medef Defense was established in 2017 to advance the brand into the centerfire rifle and handgun ammo space.
In 2021, Medef USA LLC was established to expand the company's operations into the United States. Plans are in place to open an ammo manufacturing plant in Savannah, Georgia, however the completion date for this factory is still unknown.
Medef Defense states their core values as precision, innovation, and perfection, and this is their focus when it comes to manufacturing ammunition.
Venom Ammunition is the flagship brand for Medef Defense, and although the company has multiple rifle and handgun calibers listed on their company website, currently only Venom 9mm Luger ammo is available to the North American markets.
This means if you love shooting your Springfield Armory XD or 1911 in 45 ACP, you won't be able to sample Venom ammo at this time. Furthermore, the company does not produce any long-range ammo like the 6.5 Creedmoor or 300 Winchester Magnum.
Medef Defense prides themselves on manufacturing nearly every part of their ammunition. The company makes their own cases, projectiles, and loads all their ammo in-house. This allows the company to maintain strict quality controls on as many parts of the loading as possible.
At the time of writing, Medef Defense only produces one bullet type for their ammunition, full metal jacket. These projectiles are great for plinking and range work, but inappropriate for big game hunting in most states and territories. Always check your state and local laws before hunting with FMJ ammo to ensure it's legal.
Customer reviews of Venom ammo are somewhat of a mixed bag. Some shooters report no issues with the ammo while others cite anecdotal evidence suggesting that Venom ammo is dangerous and has damaged multiple handguns.
If a cartridge were overloaded from the factory, a case rupture could occur near the casing rim and cause damage to the handgun. Clearly, it's easy to write a review online without corroborating evidence to support it. However, we recommend caution when testing Venom ammo to ensure that your firearm likes it before investing in a large bulk ammo order.
Although we currently do not have any Venom Ammunition in stock, when we do we recommend you give it a try, as we have fast shipping and will ensure your package gets to your door in as short a time as possible. If you're looking for some plinking ammo, make sure to check out all the 9mm Luger ammo we have in stock!
Where is Venom Ammo Made?
Venom Ammunition is currently manufactured in Cyprus, Turkey. However, the company is planning on opening a state-of-the-art ammo manufacturing facility in Savannah, Georgia sometime soon.
FAQ's
Is 9mm Venom ammo good?
Venom 9mm Luger ammo is inexpensive and functions relatively well. It is not as reliable as Winchester, Remington, Blazer Brass, but Venom 9mm ammo costs considerably less than more traditional brands.
What is the Velocity of Venom 9mm ammo?
Medef Defense's website claims the muzzle velocity of their 115 grain full metal jacket Venom 9mm Luger ammunition is 370 m/s or 1,214 fps. However, some shooters have reported Venom 9mm ammo to have a muzzle velocity closer to 1,280 fps, which exceeds SAAMI specs.
What bullets does Venom use?
Venom Ammo manufactures and uses their own brand of projectiles to load all their centerfire ammo.
Does Venom ammo make 22LR ammo?
No, Venom Ammunition does not currently offer any rimfire ammo for sale.
Is Venom ammo accurate?
Venom ammunition is on par with CCI Blazer ammo in terms of accuracy. It is good enough for the range but not match-grade.
Is Venom ammo good for hunting?
Venom does not have any rounds that are appropriate for big game hunting. Currently the company only offers full metal jacket handgun ammo.
Is Venom ammo corrosive?
No, Venom ammo is loaded with non-corrosive Boxer primers.
Does law enforcement use Venom ammo?
No, law enforcement agencies do not currently use Venom ammo for qualifications or duty carry.
What primers does Venom Ammunition use?
Venom uses non-corrosive Boxer primers on all their centerfire ammunition.
Are Venom cases good for reloading?
Yes! Venom uses Boxer-primed reloadable brass cases.
Which Venom 9mm ammo works best in a Glock 17?
The best and only current option is Venom 9mm Luger 115 grain FMJ ammo. This round performs well and seems to have a consistent muzzle velocity and point of impact.
Venom Ammunition Review: Sidewinder Slide Bite originally appeared on Ammo.com